How Volunteering Helped Me Connect and Get Hired for 3 Jobs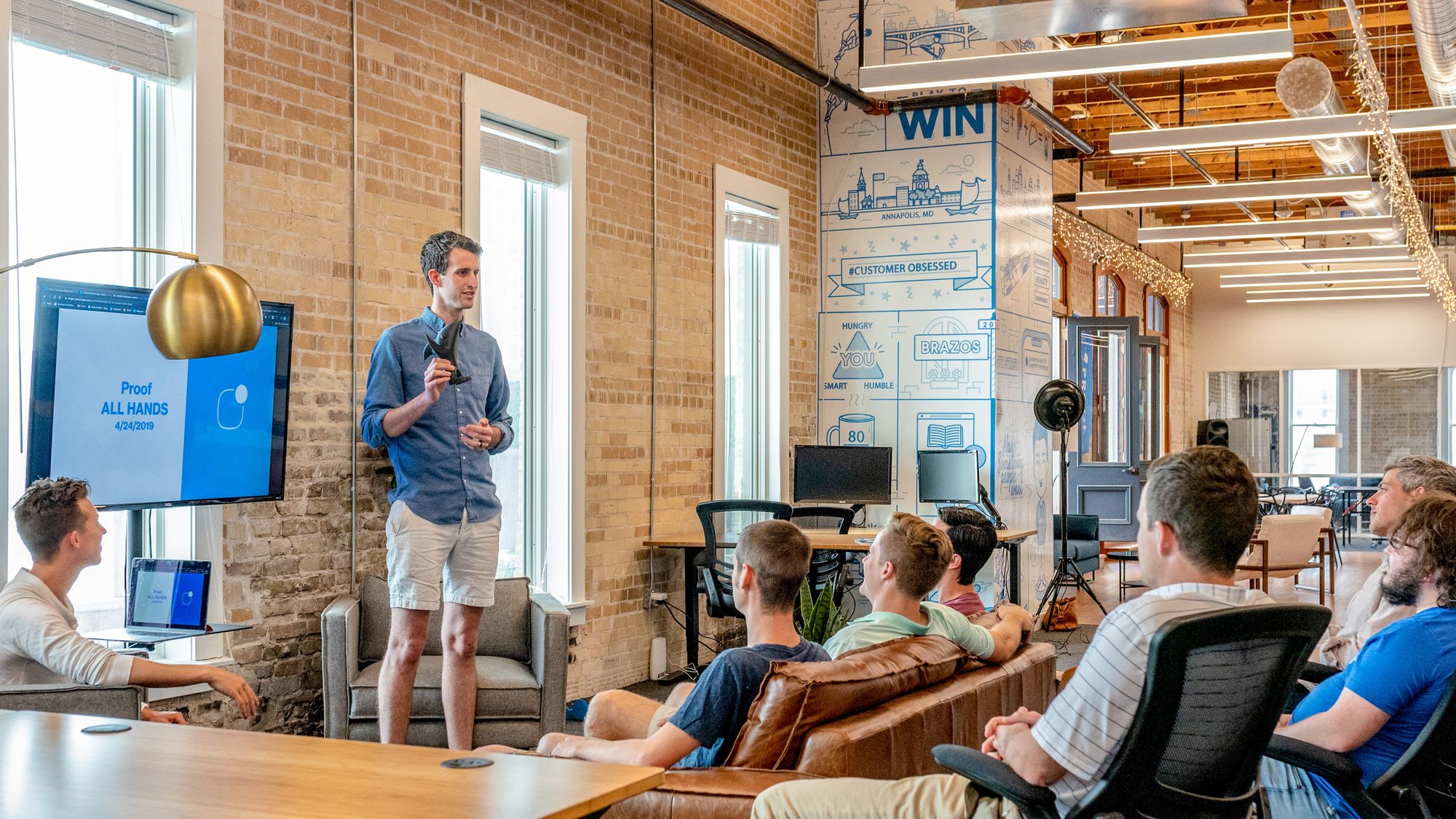 After volunteering for two years at different events, many doors have opened for a broke young entrepreneur like me. Mostly through serendipity.
Another volunteer recruited me to run events with her at Influencer Series, an intimate gathering of highly influential leaders. We host the events at different VC firms every month and our guests included Jim McKelvey (Square), Marissa Mayer (Yahoo), and Leah Busque (Task Rabbit). It's pretty rad.
One of the conferences that I volunteered for last year recruited me to work this year's conference. Because I had built trust during the first event, it was an honor to be apart of the Lean Startup Conference 2015. Being friends with the rest of the staff is also a blessing.
I became close with the founder of another conference that I volunteered for last year. I stayed in touch and Sam Parr hired me to intern for him at The Hustle. A media company that he started to compliment the annual flagship conference, HustleCon.
On top of career opportunities, I've met so many other awesome volunteers along the way. The conference organizers even invite me to get lunch or cool events, which makes me feel pretty special.
Last but not least, I also get to attend parts of the actual conference! Connecting with speakers, learning from the talks, and eating all the free food.
By the way, all these events were free (for volunteers) to attend, saving an estimated $15,000+ dollars. In some cases, they actually paid me.
I got into this when I asked my professors and other adults for career advice, they kept telling me to "go network." And that "it's who you know, not what you know."
Okay, that's nice to know. How do I even get started?
I was listening to something on YouTube and I came across Tim Ferriss' name. I discovered that volunteering for conferences was actually how Tim Ferriss got his start when he moved to the Silicon Valley. I literally followed his footsteps and received similar results two years later.
Before we get deep into volunteering, let's start with why we go to conferences. If you think it's for the talks, save yourself some money. The talks are usually available after the event.
The number one reason we go is to meet people.
Potential business partners, co-founders, investors, friends, soulmate? Who knows!?
When you're a young with no experience and no money to buy a conference ticket, the best thing you can do is volunteer.
Even though you might be doing "dirty" work like taking out the trash, handling registration, or giving directions, it's an experience. One that's shared with other volunteers whom you'll get to also meet!
I remember the day before HustleCon, I drove up to SF to organize name badges with the rest of the HustleCon volunteers. In two hours, we were in a small room together doing this mindless task but we were having fun! Talking about anything and everything.
When I met Felicia Chanco, the person that hired me to run the Influencer Series events, we were both doing registration together for the Lean Startup Conference 2014. We got along instantly and started talking about the most random topics, from traveling to girls to music.
Felicia also got a chance to see how "professional" I was as a volunteer. I was well mannered (thanks Mom!), organized, and genuinely cared about the success of the conference.
That one person changed the course of my career and life. Since that day, my goal at any event is to make one solid connection rather than ten weak ones.
I think you should volunteer if:
You're broke but still want to be in the conference environment
You want to connect with other volunteers & conference organizers
You're okay with doing "dirty work"
You're comfortable with not getting any ROI with your time. Opportunities come with serendipity, and not every event experience is going to be a grand slam.
You believe in the conference itself and the values it has
Your main focus is to help the success of the event. Everything else is secondary.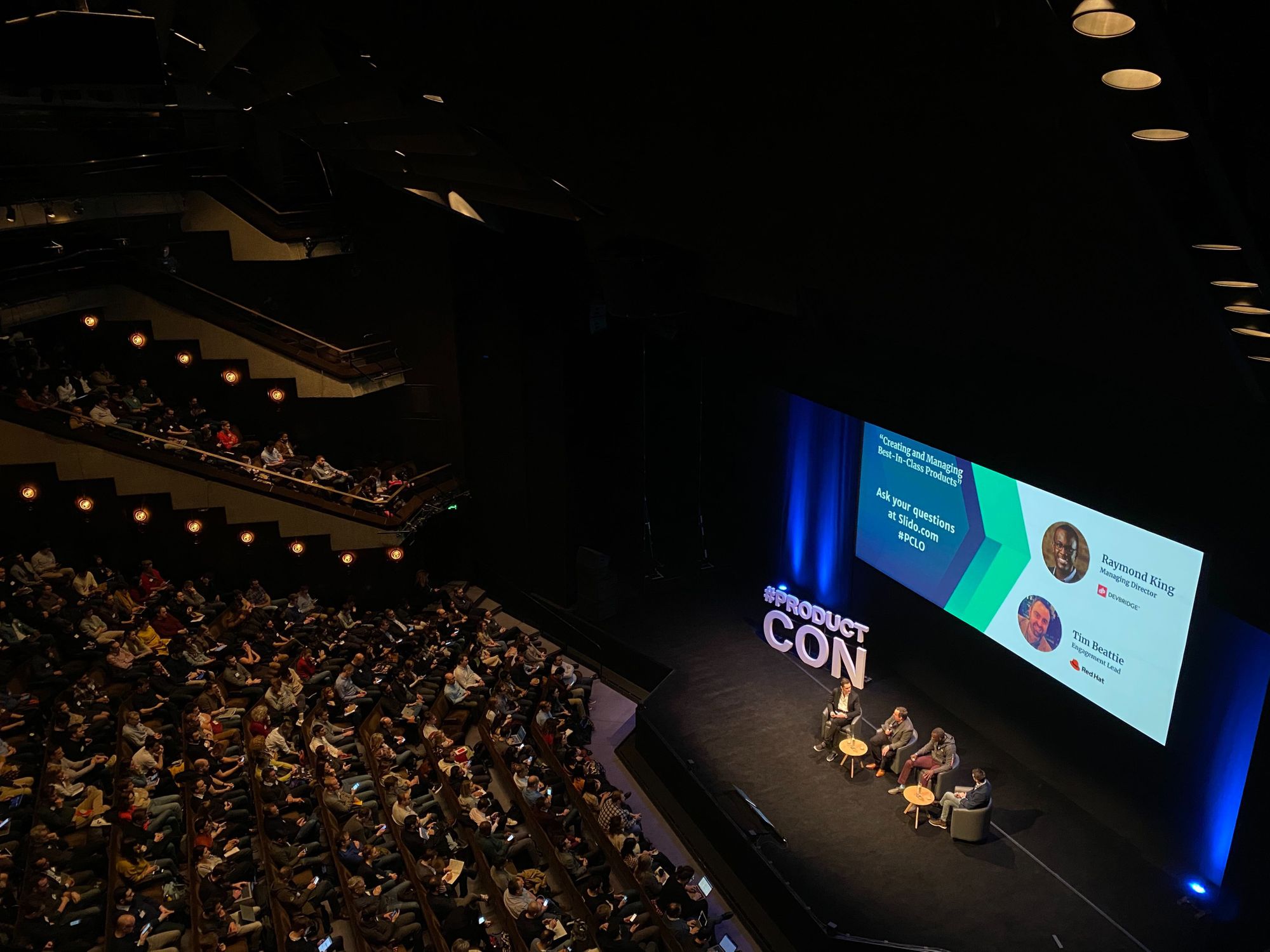 How do you volunteer?
Most conferences are dying to have high quality volunteers. The only problem is that most volunteers suck and are always asking themselves, "What's in it for me?"
Also, the volunteer turnover rate is high at conferences which frustrates conference organizers. Not showing up when you promise them that you'll be there will always leave a bad impression in their mind.
If you're convinced after reading this post that you want to volunteer for a conference, there are three simple steps to get there.
Find events that you want to volunteer at
Find the conference organizers' email and ask
Show up at the conference and do an awesome job
Finding Events
I'm fortunate to receive Startup Digest emails, a curated list of upcoming events in the Bay Area. It is my go-to place to look for conferences that I resonate with.
For you, find out where all the people you want to meet are hanging out and explore how you can attend those events. Are they into conferences? Small meetups? Medium sized events?
There are the obvious answers like Meetup or Eventbrite, but I would challenge you to find those curated lists in your space. If there isn't one, this is the perfect opportunity for you to step up and be a community leader.
Email The Organizers
There are so many tools to find someone's email.
Shoot them a quick message that you want to volunteer. Convey that you're trustworthy & reliable.
Keep it simple, stupid (KISS).
Here's the exact email I sent to Sam Parr, the co-founder of HustleCon.
Notice how I wrote my email copy to mirror how HustleCon wrote their website copy. It establishes a connection and shows that I did my homework, before Sam ever met me.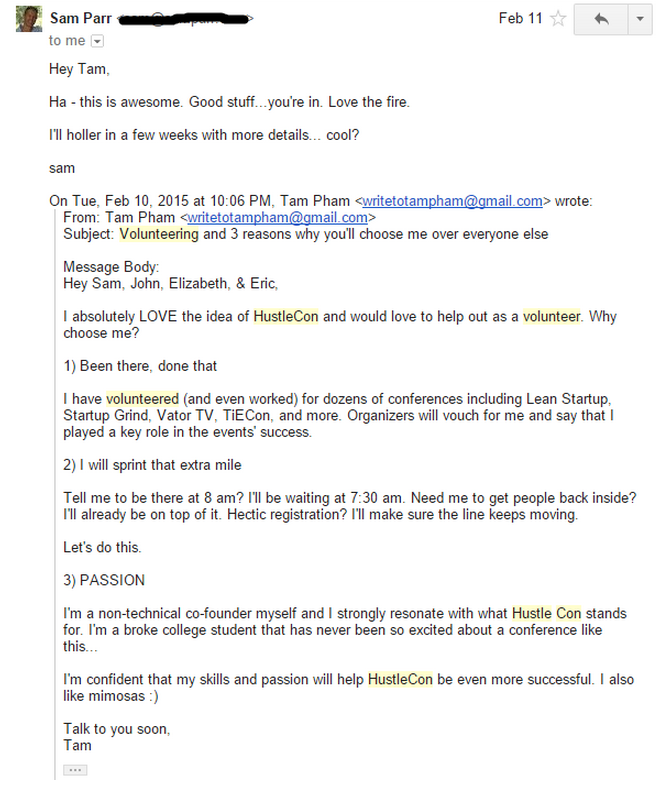 If they don't answer in a week, follow up to float the email to the top of their busy inbox.
After you volunteer for a few conferences, you can use that in your email copy as "social proof." It's all about leverage.
Showing Up
You found an event, the organizer agreed for you to volunteer. Now what? Here are a few last volunteering tips to making a memorable impression as a volunteer: Take on as much responsibility as you can.
The more stuff they give you, the better. Go above and beyond your call of duty to build trust.
My friend Shawn, who volunteered with me at the Lean Startup Conference, told our volunteer captain ahead of time that he has stage production experience. So in case anything went wrong he would be able to step in and help out.
It turns out, the stage production guy had food poisoning and couldn't run the show. Ragen, our volunteer captain, ran to find Shawn and found him in an all black outfit with a dress shirt and tie (the perfect outfit to run backstage). Like a badass, Shawn was already prepared.
He hurried backstage, put on a headset, and completely saved the conference from having more technical issues. The staff and I have a running joke that he was the hero of the conference.
Yes, he was even invited to have dinner with the whole Lean Startup staff to show their appreciation! And yes, he got hired to work this year's conference where I had a chance to reunite with him.
Good things happen when you go above and beyond your call of duty.
Represent the brand with respect.
As a volunteer for a conference, you are indirectly part of their extended staff. What you do reflects what people think of the event. I always pretend as if it was my conference, how would I want my own volunteers to act? And then do that.
Look, this method might sounds too good to be true.
"Volunteer for free, network your way with the staff, speakers, and other attendees, and get a bunch of opportunities."
Those are the benefits that might come with volunteering. But actually take pride in what you're there to do. You're there to help the brand. Help the conference run smoothly. Help the attendees have the best experience they can possibly have.
Don't forget why you're there and don't forget your responsibilities. Like I mentioned earlier,
"Your main focus is to help the success of the conference. Everything else is secondary."
That's it! If you see me volunteering at a conference in the Bay Area, make sure you come up to me and say hi, or tweet me here. Good luck on your future events!
Tam Pham's Blog
I write about my adventures, learnings, and reflections on living my weird, unconventional life. Subscribe below!