🌎 Tam's Jam: Uncovering your true desires (April 2022)
Heyo! I'm back with this month's issue of Tam's Jam: my curated collection of resources and lessons around living a meaningful life.
Quick life update: I sadly had to leave Toronto because of VISA issues (again) and I'm back in Los Angeles with my family. In the last two months, I've left my job, left Canada with no return date, and have been battling massive fatigue and brain fog with long COVID.
There's been a lot of changes and acceptance of my reality. Thank you to everyone who replied with kind words about my health last month. Most days have been quite rough but after three months, I'm slowly getting better.
This time of change and rest has inspired the bulk of this month's issue. Read on about your true desires, living a nomadic lifestyle, and finding alignment in all parts of your life.
—
🏍 What are your true desires?
Two close friends of mine recently traveled to New Orleans for their honeymoon.
They didn't dance at clubs or explore bars–both of them don't even drink. Besides listening to some jazz, they didn't do any of the traditional things you might expect when people visit New Orleans.
"How did you spend the rest of the week!?"
They told me they visited eight museums and did two escape rooms.
Let me repeat: They flew across the coast to celebrate their marriage by going to local museums and playing escape rooms.
I told them that this was the best thing I'd heard all year.
As I prep for my trip to Mexico next week, I researched dozens of things I could potentially do: visit the ruins, admire the architecture, relax on the beach, eat all the different kinds of food, and more.
These items feel like things I "should" do just because I'm in Mexico.   But what do I actually want to do?
If I was being truly honest with myself, I want to:
meet new people (expats and locals)
spend time with two friends who are joining me for part of my trip
enroll in a language school and learn more Spanish
find a fun bachata/salsa studio to take dance classes
swim in a cenote (my one "touristy" desire)
I don't want to go to any museums. I don't need to eat at all the "must visit" restaurants. I don't care that much about most things that travel adventure books and blogs recommend.
Does this make me a "bad traveler"? Did my two friends "miss out" on New Orleans?
Maybe to the outside world, yes. But your travels (and also how you live your life) are for YOU.
Design your trip/vacation for what you truly want to do, not for things you feel like you "should" do.
I used to criticize my mom a lot for wanting to sit on those travel tour buses. You know, the ones where they cram the day with the top five most popular tourist spots, stopping for photos or shopping or eating food, and getting back on the bus to continue the drive.
I don't ever see myself wanting to travel like that. But she ends her day feeling so happy and accomplished. Who am I to say that my way of travel, or anyone's way of travel, is better for her?
—
What I'm reading/watching
🛫 Ten Years a Nomad: A Traveler's Journey Home (Book) — I just finished Matt Kepnes' book (you might know him as Nomadic Matt) and he does a great job encapsulating the highs and lows of a nomadic lifestyle. It's very entertaining with stories from his life on the road over the last decade with an interesting life and travel-specific lessons woven throughout.
🌍 Notes on Adventure (Substack) — I really admire writer Blake Bole's new publication on adventure. It's the perfect set of stories and ideas that are making me extra excited about my Mexico trip. I highly recommend you start here.
🚐 10 Reasons Why Van Life SUCKS (YouTube video) — I've considered doing Van Life several years ago and decided that it wasn't for me. It may look incredibly sexy to not pay so much on rent, live in national parks, and have everything you need in your car. Honest videos like these balance my perspective and remind me of the costs associated with this lifestyle.
😮 The War on Normal People by Andrew Yang (Book - web summary here) — Andrew Yang was the first and only presidential candidate that I supported with both my heart and wallet. After listening to countless hours of his podcast interviews in 2019 warning everyone about the effects of automation and pushing for a Universal Basic Income, I finally finished his book and found it both depressing and full of hope.
Who is "normal" in America? The normal American did not graduate from college and doesn't have an associate's degree. He or she perhaps attended college for one year or graduated from high school. She or he has a net worth of approximately $36K—about $6K excluding home and vehicle equity—and lives paycheck to paycheck. She or he has less than $500 in flexible savings and minimal assets invested in the stock market. These are median statistics, with 50 percent of Americans below these levels.
"Think of your five best friends. The odds of them all being college graduates if you took a random sampling of Americans would be about one-third of 1 percent, or 0.0036."
This book reminds me of how much privilege we have to travel or self-actualizing. Most people in America, let alone the world, don't have the opportunity to "play the game." Class/economic mobility is something that I've been thinking about a lot these days. How do we level the playing field?
One last thing I'll share is this mini-book from my friend Andrew Frawley, the CMO of the Yang campaign, who at 23, helped take an unknown man onto the main stage of the presidential debates without any political or real marketing experience. What an incredible impact and life experience to have. I highly recommend reading his behind-the-scenes perspective of his life and of the entire movement.
♔ I'm 38 Years Old and I've Never Had a Job (Blog post) — "I never have and never will have a job. Maybe it's because I'm unbelievably lazy, or maybe because from the time I was young I put an extremely high value on my time, but ever since I graduated high school it was clear that I thought about things a lot differently than most people."
My favorite part from this piece is, "Eventually I got some jobs teaching chess, and I worked about 8 hours a week, making $40-$60 an hour (for a 19 year old in 1997, that was a lot of money). That was all I needed, so I had no desire or incentive to look for more lessons.
This last sentence is the key to everything. While most people who could be capable of earning that money would look for more and more opportunities to give chess lessons, I had absolutely no interest. I wanted to work a little bit, make a little bit of money, and then go on doing whatever the hell I wanted the rest of the time. I've noticed that this quality is extremely rare, and I feel pretty fortunate that it has been my approach in life."
How much money do you actually need? Once you have it, do you have the discipline to stop earning once you reach your special number? I agree with Greg in that the discipline to stop earning once you have "enough" is extremely rare–I hope to cultivate this muscle myself. As I've recommended before, The Psychology of Money is a fascinating book that explores your not-so-unique relationship with money and much more.
😌 The Art of Alignment (Book) — I'm reading my dear friend Candace Wu's new book and it is one of the best texts I've seen to navigate big life transitions in the modern era. Having recently left my job, I've been in a funk because my future looks very open and uncertain. The philosophy and exercises here are already helping me retap into my true desires (callback!) of what I actually want in life. I've read a ton of other books about what to do with your life and I am thoroughly impressed with this one. 🙌
—
🐦 Tweets of the month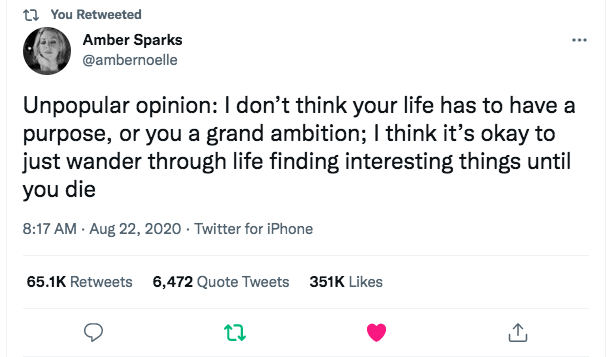 Do you agree with this? (Source)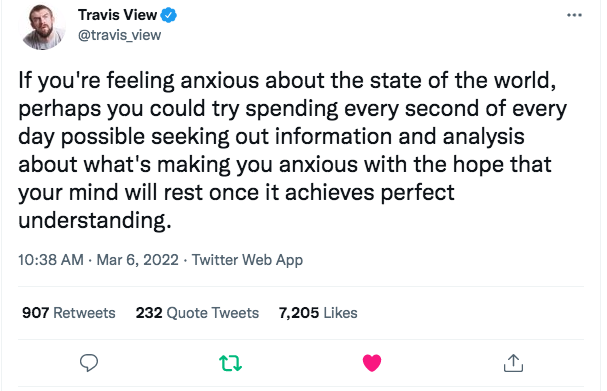 I thought this was hilarious. On a more serious note, the book Chatter is amazing at helping us use our inner voice in a positive/helpful way instead of being self-destructive.
—
🙂 Before you go
Thanks for reading this issue of Tam's Jam!
🛫  Upcoming travel:
🇲🇽 Mérida, Mexico — 4/16 - 5/1
🌮 Mexico City — 5/1 - ???
Say hi if you're in the area!
📚 My books:
I do a horrible job marketing my own products lol but I'd like to share my work with everyone who has joined Tam's Jam in the last few years. All books are available on Kindle, paperback, and my favorite... Audible, narrated by yours truly. 😇
Products I love and want to shamelessly promote:
📔 The Five Minute Journal is a gratitude journal that I've been using for 6+ years and I love it (my 2016 review). It's been the most consistent thing I've done to support my mental health and can't recommend this daily practice enough! Use "TAM10" to save you some moolah and get your copy.
🌏 iTalki connects you with teachers from all around the world to help you learn any language you want! I'm currently learning Spanish with teachers from Mexico, Colombia, and Argentina for only ~$8/hr!! You can get a $10 credit once you deposit $20 if you sign up with my link. I highly recommend sampling teachers through trial lessons first until you find the right fit–I'm happy to share my teachers if you're learning Spanish! Disfruta. ✌️
Last but not least, if you enjoyed this issue, why not share it with a friend to show how cool and smart you are? You can forward this email directly or send them here to sign up for the next edition. 🙏
Thanks for reading! See you again next month.
With gratitude,
Tam
Tam Pham's Blog
I write about my adventures, learnings, and reflections on living my weird, unconventional life. Subscribe below!