Top Places to Dance Salsa and Bachata in Mexico City (2023)
Here's a list of the best salsa and bachata socials + classes in Mexico City (CDMX). There are places for Roma Norte, Condesa, Polanco, Juárez and more! Happy dancing. :)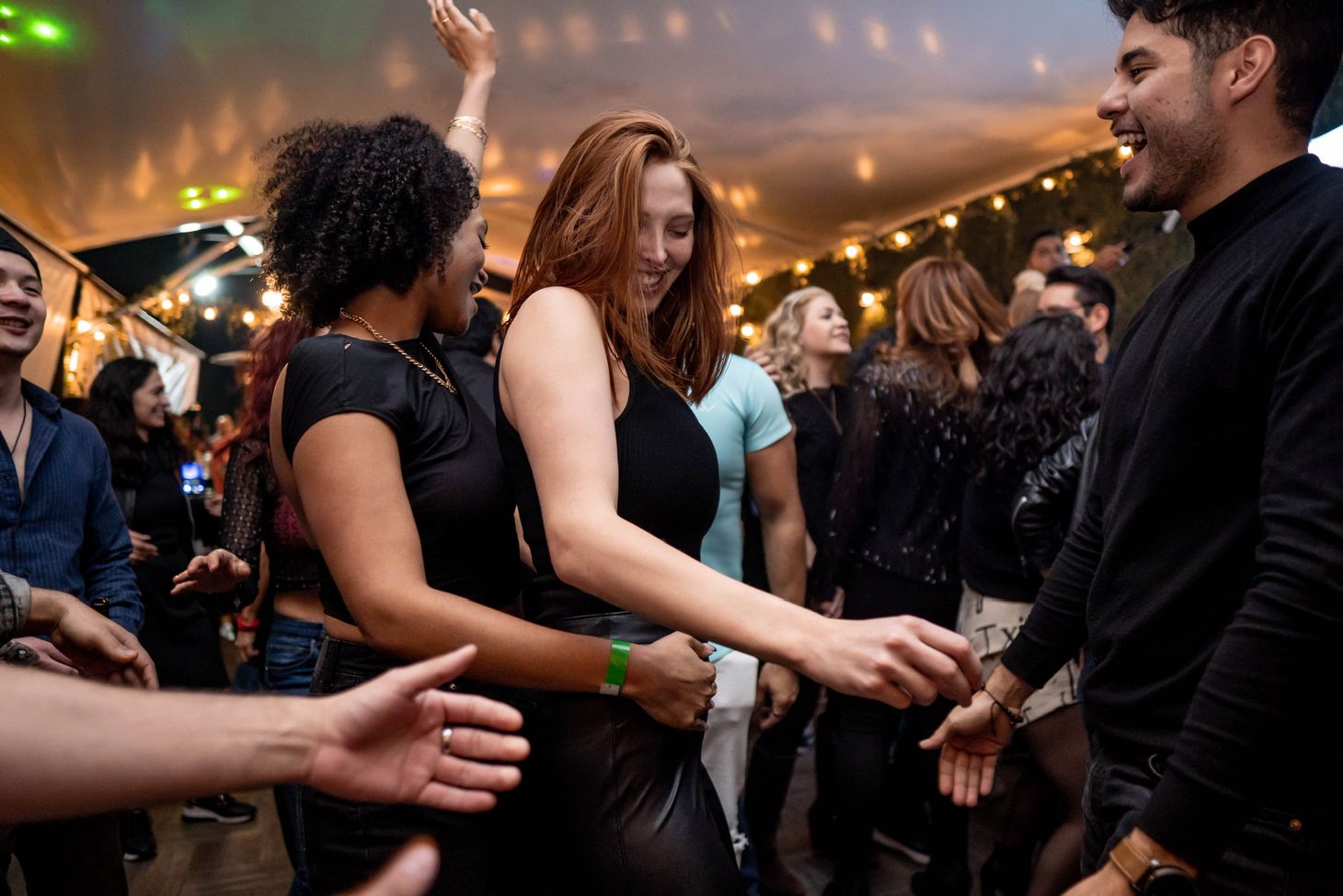 Came here from Google? Or did a friend recommend you this page? Great! Let's skip my boring dance story that no one reads and get you the info you need.
Last updated: March 2023 (I'll add more as I learn about new events — message me if you'd like to add/edit your event @tamphambachata)
💃 Best Salsa and Bachata Socials and Classes in Mexico City (CDMX)
Grupo Esencia México
Grupo Esencia México is my favorite group to dance with. The teachers are highly technical, super fun, and are trained by the famous bachata partners, Marco y Sara from Spain.
They have classes for all levels in beautiful Parque México.
Wednesdays — Bachata at 6:30pm
Saturday & Sunday — Salsa at 12pm and Bachata at 1pm
Address: Parque México, Av México s/n, Hipódromo, Cuauhtémoc, 06100 Ciudad de México, CDMX
If you've never been to Parque México before, find the main quad, and go to the hallway surrounding the quad. Listen for loud bachata music and look for their giant banners that say "Grupo Esencia"
There's usually a social directly after classes to practice what you just learned. It is lovely to dance in the park with the beautiful sun shining down.
For more info, follow Pepe on Instagram (@bachateamepapa).
ISM (International Salsa Meetup)
This was the community I first got involved with when I first landed in México. Expect to see a mix of foreigners and locals. Friendly and open vibes everywhere.
ISM has bachata, salsa, and Cuban salsa classes literally every day for beg/int dancers.  They also have boot camps to level up with the same group at a higher intensity.
They usually host their classes at Marketeatro (Coahuila 105, Roma Nte., Cuauhtémoc, 06700 Ciudad de México, CDMX).
ISM has a bachata social at Busan Restaurante (Av. Tamaulipas 63, Colonia Condesa, Cuauhtémoc, 06140 Ciudad de México, CDMX) on Wednesday nights. Plus a salsa social at the same location on Thursday nights.
Skill levels lean toward beginner/intermediate. But most people are better than the scenes I've seen in North America.
See their Instagram (@ismmexico) or the founder Kentaro (@kentaroyoneda — apparently he's an influencer now jaja) for updates.
Mon Amour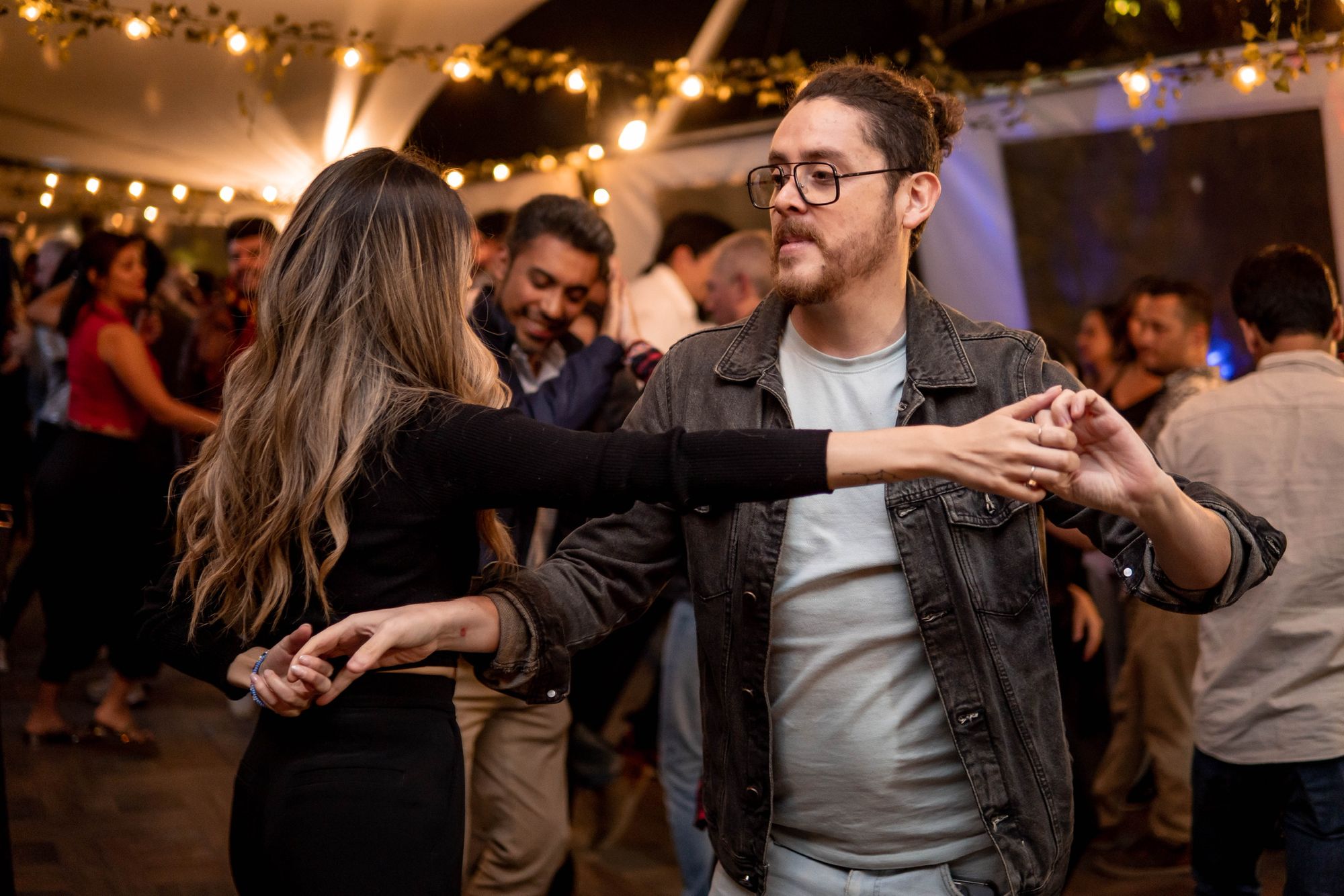 A festive place to dance salsa and bachata to dance every Friday night. Also some Kizomba & Reggaetón as the night progresses. I've celebrated a few of my friends' birthdays here and the people and scene give very good vibes.
They have a new location in a bigger space. Check them out next time you're in México City!
Address: Holbein 171 Cd. de los Deportes, Benito Juárez, 03720 Ciudad de México, CDMX
See their Instagram for their next event (@monamour.party).
Latin Tribu Dance Academy
Dani (@daniloug12) is one of my favorite bachata teachers in CDMX! She runs Latin Tribu Academy and they host bachata classes on Thursday nights at Medellín 273 (2nd floor). Plus salsa and bachata classes on Saturday mornings in Parque España.
Address: Parque España, Colonia Condesa, Cuauhtémoc, 06140 Ciudad de México, CDMX
See their Instagram for the latest events (@latintribu_danceacademy).
Bachateros CDMX
Small, tight space but a bumping dance scene. There are some really good dancers who frequent these Tuesday-night socials.
Address: La Razonga, Hamburgo 108 Juárez, Cuauhtémoc, 06600 Juárez, CDMX
See their Instagram for their next event (@bachateros_cdmx).
El Babalú
They have classes of many Latin styles throughout the week along with socials afterward. When I danced there, the social has been mainly salsa. They even bring in a live band to play!
After (or before) dancing, there's an elegant restaurant downstairs to eat and drink called Salón Ríos.
Address: C. Río Lerma 218, Cuauhtémoc, 06500 Ciudad de México, CDMX
See new events weekly on their Instagram (@el.babalu)
Boros Bar
They have classes and socials often here. The one I'm most familiar with is their Thursday "Bachata Feeling" events. They usually have a salsa class at 7:30pm and a bachata class at 8:30pm followed by a social.
Address: C. Salamanca 87 Roma Nte., Cuauhtémoc, 06700 Ciudad de México, CDMX
See their Facebook page for updates.
Dance Room Mx
They host bachata socials every Sunday at 6pm at La Bonita. Their address is confusing to find on Google so below is the most accurate info.
Address: Ezequiel Montes 136, Tabacalera, Cuauhtémoc, 06030 CDMX
See Dance Room's Instagram (@dance_room_mx) or see all events at La Bonita on their Facebook page.
Mama Rumba
A staple in CDMX. Mama Rumba is known for Cuban Salsa or Salsa Cubano. I don't dance much Cuban Salsa but many of my friends love their classes and socials.
They're most known for the nightlife vibe. Have a drink and dance the night away with your friends here at Mama Rumba!
Address: C. Querétaro 230, Roma Nte., Cuauhtémoc, 06700 Ciudad de México, CDMX
See their Instagram (@mamarumbacdmx)
Salsa Condela
They teach salsa, bachata, and kizomba at their studio. Many of my friends have taken classes here and really like the focus on technique.
I haven't been since it's a bit further than where I am now (the venue is near Fórum Buenavista). But if you're in the area and want a structured learning environment, check them out on their website.
Address: Estafetas 99, Postal, Benito Juárez, 03410 Ciudad de México, CDMX
Salsa Dance Club Condesa & Polanco
This studio is known for salsa but they also teach bachata. I didn't enjoy my bachata experience there.
I also thought their pricing was too much of a commitment (it felt like signing up for a gym membership). But I have heard amazing things about their salsa classes.
Address (Condela): Gral. Salvador Alvarado 20, Hipódromo, Cuauhtémoc, 06100 Ciudad de México, CDMX
Address (Polanco): Av. Ejército Nacional Mexicano 42-Interior 2G, Anzures, Miguel Hidalgo, 11590 Ciudad de México, CDMX
See for yourself (@salsacondesa).
Bachetea Love
Monthly events on the weekend. Looks like I'm writing this as they are preparing their next event. See their Instagram for up-to-date info (@bachatealove).
All other socials in Mexico City (CDMX)
There are dancing events every night in México City. When I asked my friends for more suggestions, they recommended these events. I haven't been to these ones yet but I'll leave more names and links here for you to explore.
Dancing Souls Polanco at Lago Tanganica #67 – does anyone know their IG?
Terraza XX
Rey el Animal teaches Salsa Cubano, Rumba, and Afrocubano classes.
Thank you to all my friends who suggested these events + many others throughout the page. Teamwork!!
🕺 Bailamos?
As an Asian man/foreigner with little Spanish, dance is the universal language I needed to connect me to new communities anywhere I travel.
I hope this page connects you to a community that has brought so much joy to my life.
If you're interested in learning more about my experiences traveling to Mexico or how I got into bachata (with no dance background), links are below!
If you enjoyed this and want to buy me a coffee, I run on caffeine! 🤪 ☕️ 🙏
Say hi to me on Instagram (@tamphambachata). See you on the dance floor! 🕺
---
P.S. No one paid me to promote any of this!! I wrote this to connect new people to CDMX dance scene without having to open 10+ different links on Google. This is the guide I wish I had before my first trip. I genuinely hope you found it helpful.
P.S.S. A new friend on IG sent me a project she made of all the dance spots in Medellín, Columbia! Pretty awesome.
Tam Pham's Blog
I write about my adventures, learnings, and reflections on living my weird, unconventional life. Subscribe below!