Learning Spanish, Making Friends, and Dancing Bachata in Mexico City 🇲🇽
How I learned Spanish, made friends, and danced bachata around Mexico City. I also share my recommendations for Bachata teachers and Bachata socials in CDMX.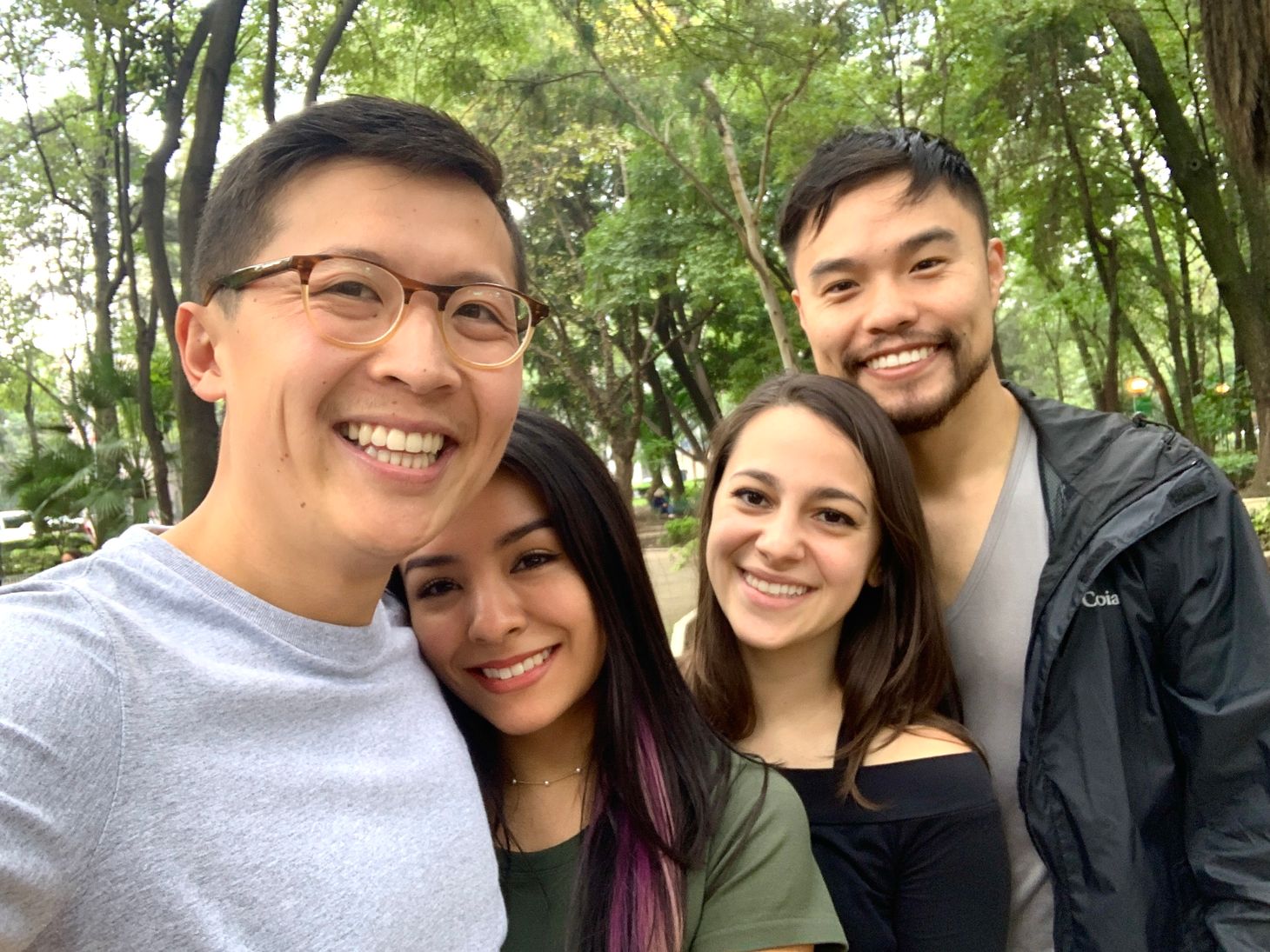 I just finished spending three months in Mexico City and loved every moment of it.
This is a recap of my time there with recommendations for learning Spanish, making friends, and dancing bachata and salsa in CDMX.
But first, a quick note on traveling with intention. ✈️
Your trip is for you, not for anyone else
I originally set intentions to go to Mexico City for three main things.
Learn Spanish
Learn bachata
Make friends
Even though friends back home that I HAD to check out the Anthropology museum or Michelin star restaurants or this cocktail bar, I didn't make time to go.
Why? Well, I don't really like museums. And while I like food and cocktails, I'm not much of a foodie.
So I didn't go. And guess what?
I have no regrets.
During my trip, and in your normal life, other well-intentioned people (friends, family, society) will tell you how you should live your life.
"Go get a job in consulting."
"Why don't you have kids yet?"
"Don't go to Mexico. It's dangerous."
I don't think you should dismiss what everyone says immediately. Hear them out, try to understand what happened in their lives for them to form this belief, and analyze to see if it's advice that you agree with.
You know, think about stuff before you do it.
My friends loved those recommendations and share their ideas with love. I thanked them for the suggestions, did some of the activities that interested me, but mostly did my own thing. 🙂
Learning Spanish in Mexico City
I wrote an epic 3,000+ word essay on how I learned how to have basic Spanish conversations in 6 months.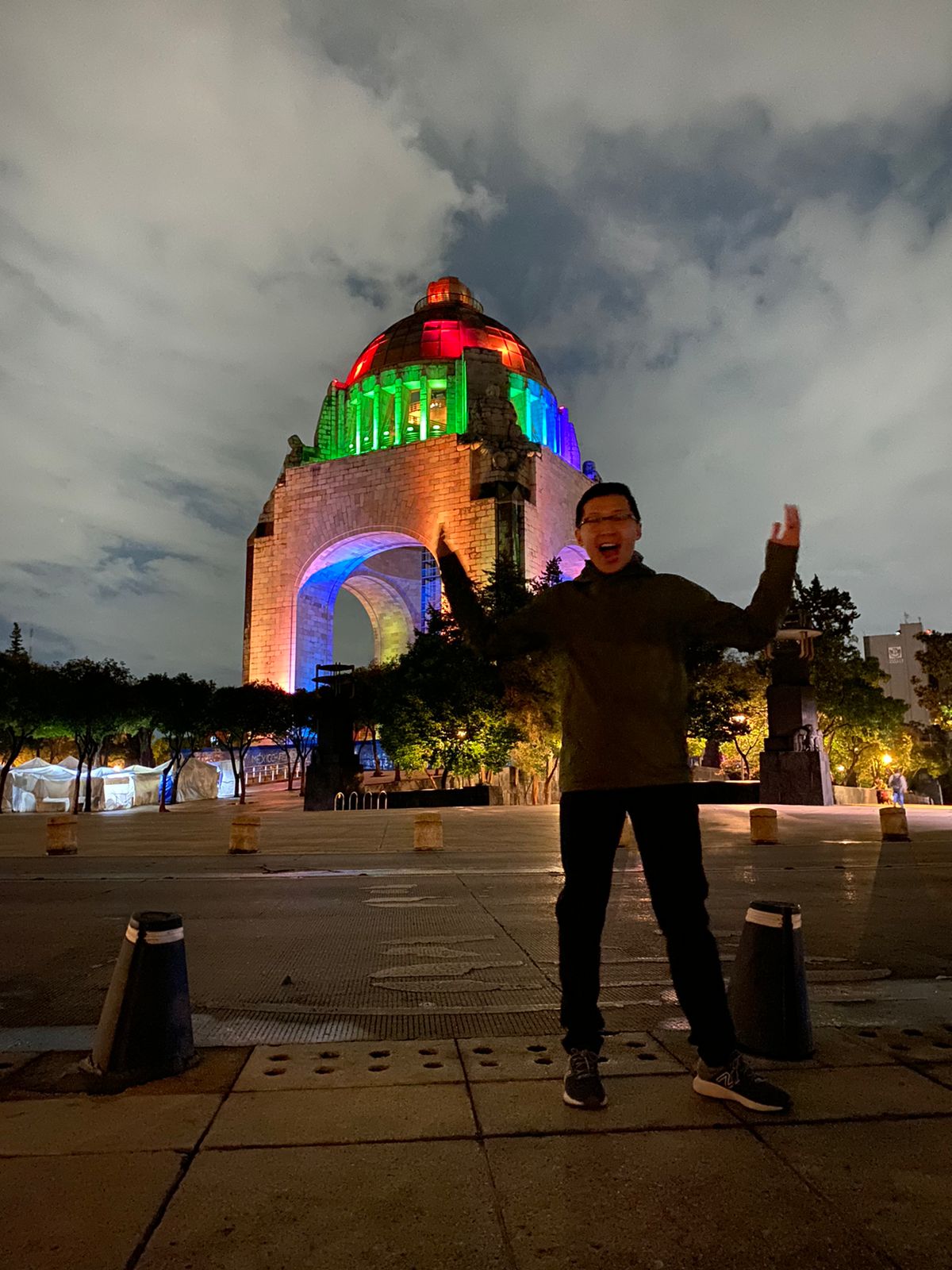 Read this epic post if you're curious about how I applied the learning process I've used from my experience as a chess expert to language learning.
💡
tl;dr — it's not easy. if you choose to embark on this journey, here are my biggest tips: obsess over the fundamentals, focus on what's most important, get deliberate practice, surround yourself with locals and other learners, learn through different mediums, and have fun.
I obviously still have a long way to go but I am proud of the progress I've made. 😎
Making friends in Mexico City as an expat
If I can't build my community, the easiest thing to do is to find an existing community and join them.
I met Kentaro who started International Salsa Meetup (ISM), a community for locals and expats to meet for language exchanges, dance events, and weekend trips around Mexico.
It was the perfect home base for me to meet a high volume of people. From there, I filtered out friends who I wanted to stay in touch with and discovered new events/communities to check out.
Once I had a solid group of friends, I hosted my own events starting with a language exchange group. We met weekly to practice Spanish for three hours.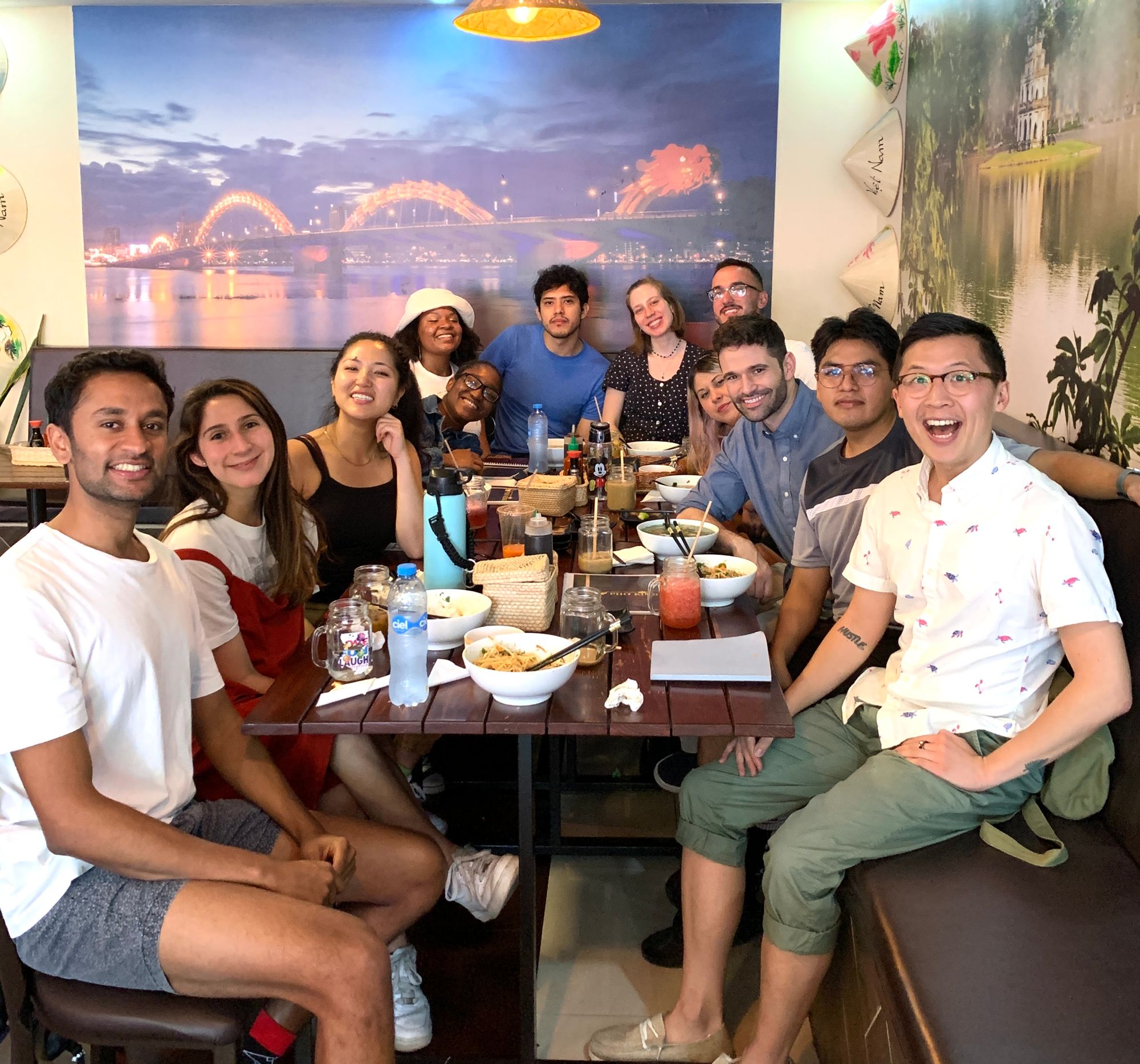 I hadn't traveled for a long while so I assumed it would be difficult to make friends. But surprisingly, I found myself with a plethora of plans and had to turn down opportunities to conserve my energy (which is especially top of mind as I go through the tail end of long COVID).
When I did hang out with friends, it was mostly at dance classes and socials because that was where I wanted to focus my energy.
But I also had spontaneous encounters with new people at yoga classes, dating apps, or random social events my friends would invite me to.
Learning Spanish really helps you to go beyond your expat clique and connect with the locals. I highly recommend doing it.
Or don't. It's your life. 😉
Dancing Bachata in Mexico City (CDMX) 💃
I started learning bachata because I was absolutely terrified of it.
Moving my body, dancing to music I didn't understand, being sensual in front of attractive people… I was an awkward mess.
As scary as it was, I love diving into my fears and I made it my 2019 New Years' resolution to try my first bachata class.
I dragged my best friend to the class because I was terrified and needed support.
I finished my first class and it wasn't that bad!
I tentatively went to class maybe twice a month for the first six months. I remember going to my first "social" and leaving immediately because I was too embarrassed (and incompetent) to dance with anyone.
Luckily, I found a dance studio in Toronto where I got into the groove again for nearly a year. Until the pandemic hit and I had to dance in my room for two years. 😢
When the world felt safer to travel, I went to Mexico City to continue my dance journey. Within the first month, I felt like I learned double or triple of my repertoire.
It was awesome. I took classes and went to socials several times a week in Mexico. You can see my dance journey here on Instagram (@tamphambachata) 🤠
Learning to dance bachata and salsa was a no-brainer for me–it's fun, it burns off all the carbs I inhaled on my trip, and I can meet a lot of people naturally. Also, cute girls are a big plus.
I wrote about my 6-month bachata sabbatical below for anyone curious in diving deeper.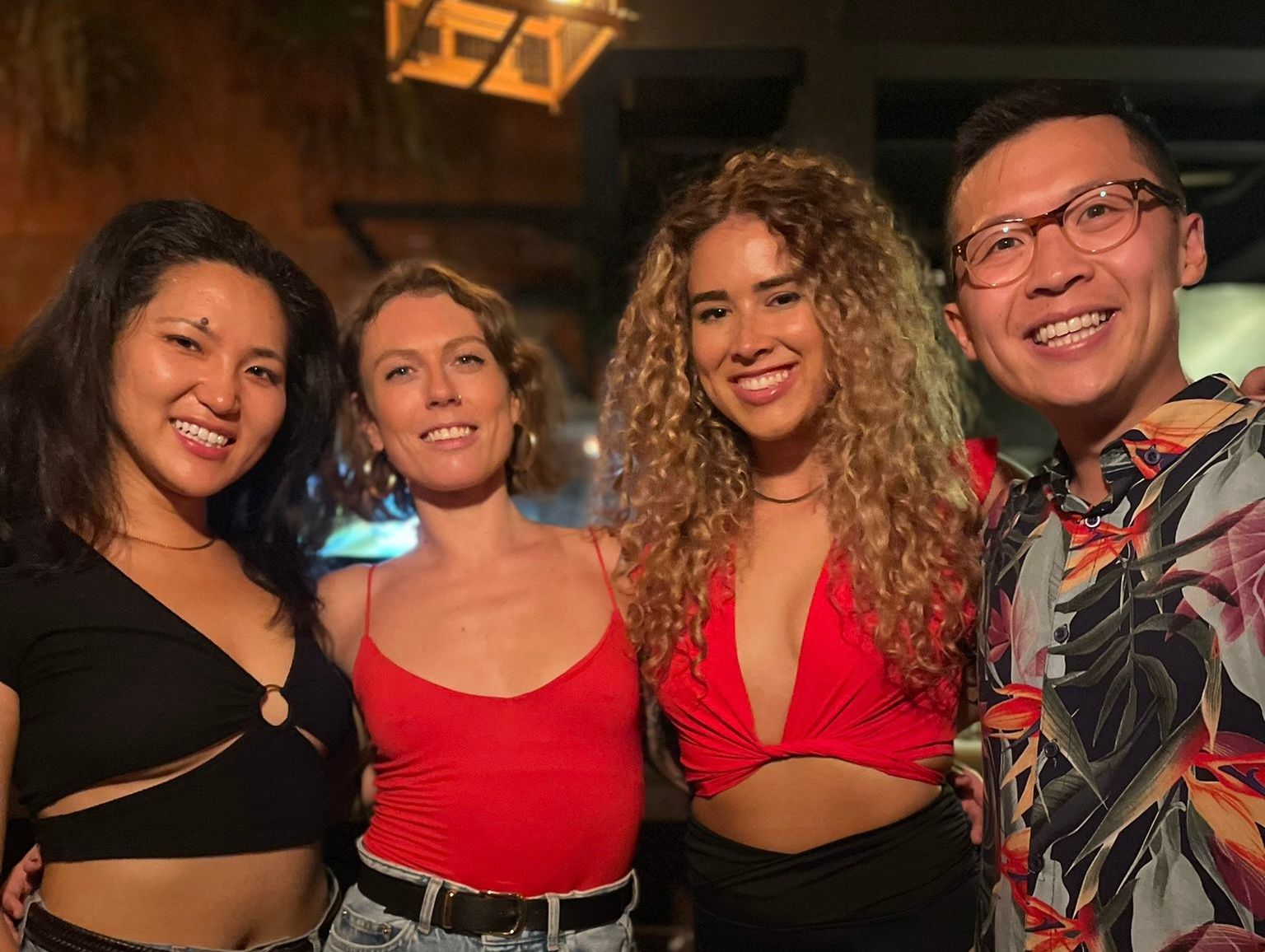 If you're ever in Mexico City, here are the teachers and socials that I recommend you check out.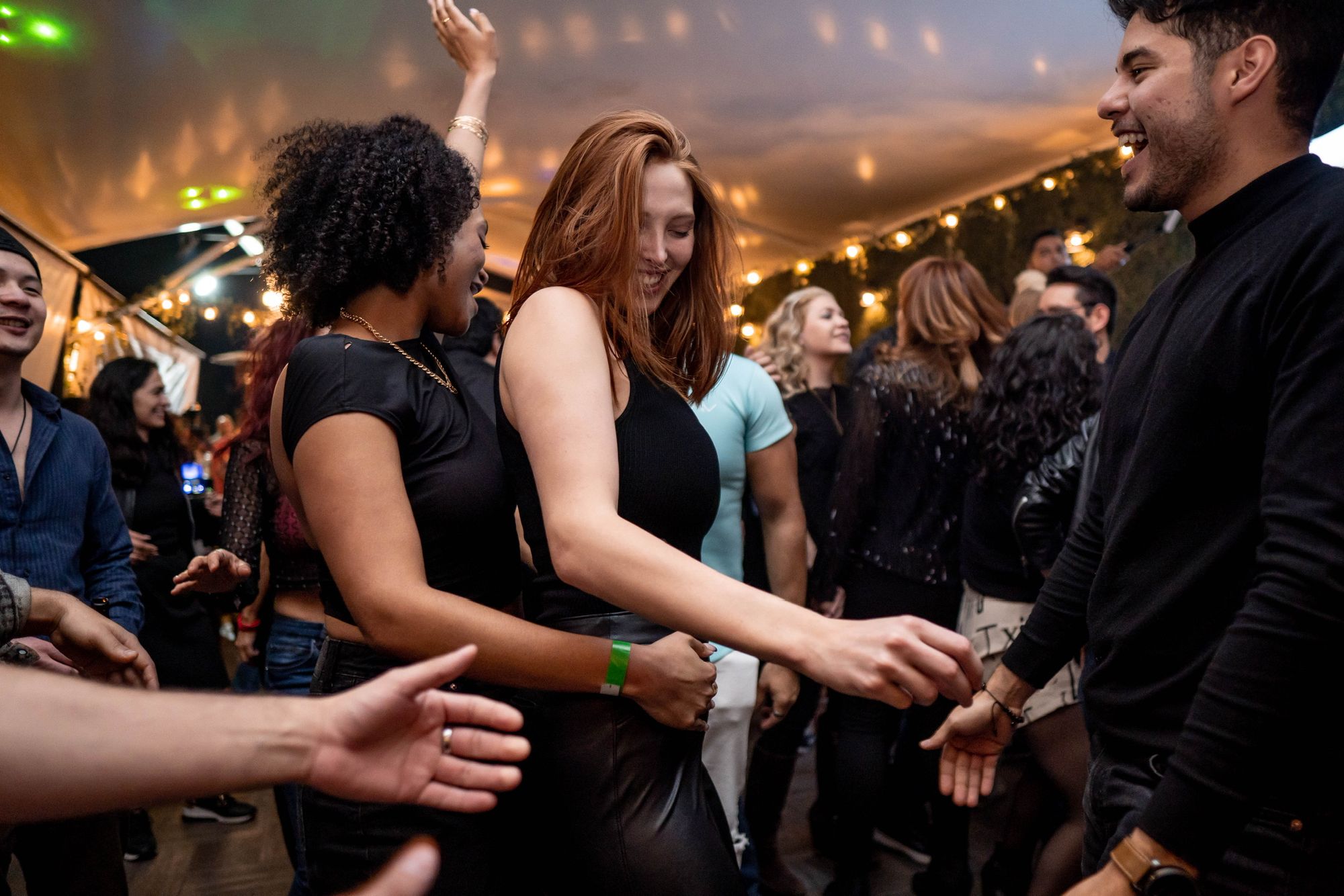 Here are some of my favorites:
Grupo Esencia México
Grupo Esencia México is my favorite group to dance with. The teachers are highly technical, super fun, and are trained by the famous bachata partners, Marco y Sara from Spain.
They have classes for all levels in beautiful Parque México.
Wednesdays — Bachata at 6:30pm
Saturday & Sunday — Salsa at 12pm and Bachata at 1pm
Address: Parque México, Av México s/n, Hipódromo, Cuauhtémoc, 06100 Ciudad de México, CDMX
ISM (International Salsa Meetup)
This was the community I first got involved with when I first landed in México. Expect to see a mix of foreigners and locals. Friendly and open vibes everywhere.
ISM has bachata, salsa, and Cuban salsa classes literally every day for beg/int dancers. They also have boot camps to level up with the same group at a higher intensity.
They usually host their classes at Marketeatro (Coahuila 105, Roma Nte., Cuauhtémoc, 06700 Ciudad de México, CDMX).
ISM has a bachata social at Busan Restaurante (Av. Tamaulipas 63, Colonia Condesa, Cuauhtémoc, 06140 Ciudad de México, CDMX) on Wednesday nights. Plus a salsa social at the same location on Thursday nights.
Latin Tribu Dance Academy
Dani (@daniloug12) is one of my favorite bachata teachers in CDMX! She runs Latin Tribu Academy and they host bachata classes on Thursday nights at Medellín 273 (2nd floor). Plus salsa and bachata classes on Saturday mornings in Parque España.
Address: Parque España, Colonia Condesa, Cuauhtémoc, 06140 Ciudad de México, CDMX
See their Instagram for the latest events (@latintribu_danceacademy).
🕺
From "thinking about the next move" to dancing with flow
Imagine you just learned some cool figures during your bachata class. You're excited to add these combos to your repertoire. But when you hit the socials, you "suddenly" forget everything you've learned... 😩
I hated this feeling. So that's why I created
Bachata Library
, the ultimate system that helped me remember and master dance moves.
I can now learn new moves, track them in my Bachata Library, and execute them at socials within just a week of practice. After adding dozens of new figures, I now have a wide range of tools to better express myself and connect with my partner.
If you want to "get out of your head" and feel more flow, start creating your own
Bachata Library
. 🤓
Tips for expats traveling to Mexico City (CDMX)
Things that have made my experience better and can hopefully offset some of the negative connotations some Mexicans have of foreigners.
Shop local
Avoid Walmart and other big corporate brands if you can. Buy produce at local markets (I love the Medellin Market) and support small businesses whenever you can. Avoid paying for overpriced goods that are clearly targeted at tourists.

Learn Spanish
Don't be that tourist who expects all the staff to know English. Dude, you're in Mexico. You should be expected to learn Spanish, not the other way around. And if you don't know any Spanish, that's ok. Show kindness and compassion as you attempt to communicate. Locals appreciate the effort.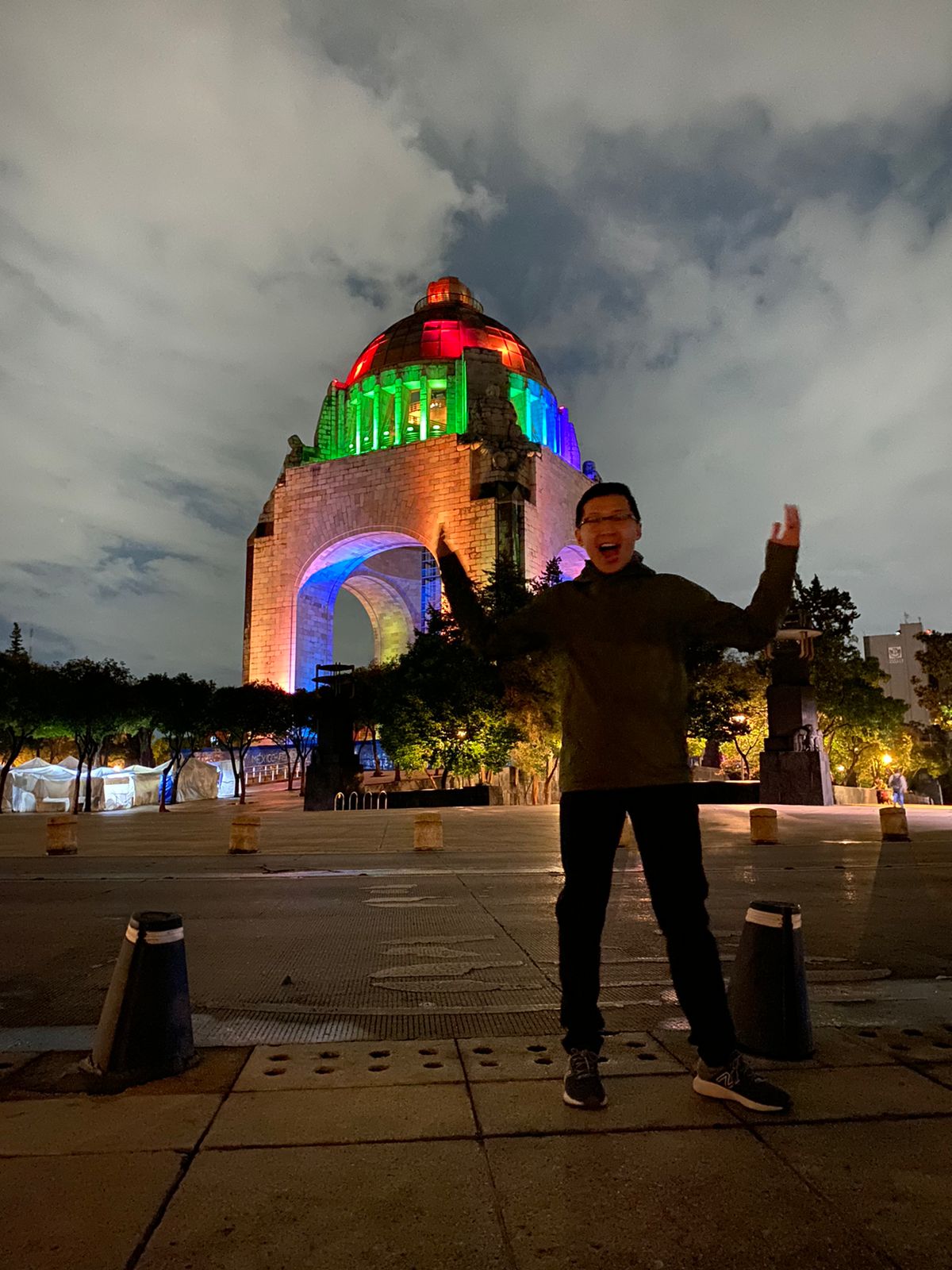 Be friends with locals
If knowing the real culture of a place interests you, connect with people outside of your expat bubble. I've met many friends from Mexico through dance, language exchanges, and dating apps. Language barriers can be a thing but some locals speak both English and Spanish. Or if they don't, Google Translate will be your best friend. Spend quality time together and be genuinely curious about their lives. Mexicans are awesome people.

Tip well
Your tip will be a form of high-leverage kindness, a little bit from us foreigners can go a long way for the locals. I do my best to tip well and often. I'm even guilty of giving money to the families who ask while I'm eating dinner. That's not always recommended but I have a ton of respect for those who sell things, perform, and play music in order to live a normal life.

Stop saying "Mexico is cheap"
Yes, your dollar or euro is worth more than pesos. But don't flaunt how cheap Mexico is. The minimum wage worker in Mexico makes $173 pesos ($8 USD) a day. What's cheap to you is expensive AF to them. It's insulting to brag about your spending power when nearly half of Mexico lives in poverty. Also, Mexico has so much culture and beauty in its land and people. When you talk share your experience in Mexico, lead with talking about the amazing people you've met, the food you've tried, the festivities that you've dipped your toes in. Not about how far your dollar can stretch you.
Travel safely
Mexico is not as dangerous as movies make it out to be. I felt safer in Mexico City than when I lived in San Francisco and or when I recently visited Oakland.
Choose a neighborhood that has a good track record for safety. The most touristy areas in CDMX are Condesa, Roma Norte, and Polanco. If it's your first time visiting, going to any of these areas is a safe bet. Then you can branch out after you feel more comfortable.
General travel tips: Be alert to your surroundings. Don't flash fancy watches or expensive gear that make you a target. Walk in groups if possible, especially at night. Or take an Uber home. Let your friends/family know your travel plans so they have an idea on where you might be in case of the worst-case scenarios.
I've met many solo female travelers who shared that they had a great time. You'll be OK. 👍
Get these items before your trip
Exchange some pesos at your bank beforehand so you have cash to use for the first day or two. Cash is king here. You can use your debit card at an ATM (don't forget to decline their conversion rate, use your bank's local conversion rate instead) to withdraw more pesos when you arrive to CDMX.
I wear travel clothes from Unbound Merino religiously. A friend and big supporter of the blog started this apparel brand that lets you look cool and travel lighter. I bring their t-shirts, crewnecks, and briefs with me on every trip and absolutely love them. Use my link to shop for your next trip and support the blog. Or use the non-affiliate link here.
Bring an eye mask and eye plugs. It feels like in the States, everyone has the right to be quiet after a certain hour. But in Mexico, everyone has a right to make noise at any hour. Be prepared to hear parties, music, and the typical noises of a busy city.
Get travel insurance to stay protected. I use SafetyWing because it's affordable and meant for digital nomad types. About $10/week which is amazing value for giving me peace of mind. While I love taking risks, they're mostly calculated, because I lean on the side of caution whenever possible.
Look for stays outside of Airbnb
It's wildly expensive to rent off Airbnb nowadays. If you have local friends, ask if they know of any rooms for you to stay in. If not, turn to Facebook groups to find a sublet opportunity.
Search "expats in [city]" and you'll find some communities. Couchsurfing is always an option if you're open to a new experience.
I wanted to live on my own so I went on Airbnb and messaged the hosts privately if we could work out a deal off the platform. Airbnb blocks off Whatsapp numbers so ask the hosts for their Instagram and do a deal there. It's a win-win for both you and the host.
But since it's under the table, there is some risk. I've done this twice and haven't had a problem. Many friends have too. There's no formal contract or anything. Mexico is pretty chill in that way, especially if it's not a significant deal like a 1-week stay lol. But like anything in life, things can happen so do this at your own risk!
Final thoughts
I never had a Mexico trip planned for 2022. But three things happened.
I got long COVID in January of 2022 and had to give up my aspirations to explore martial arts, my original goal for the year. I even had to quit my job in March because my body and mind needed to rest.
I learned Spanish not because I wanted to travel to Latin America. I just wanted something to do that wasn't incredibly energy-intensive and Duolingo was convenient to do while I was taking a dump.
My VISA expired and I was forced to leave Canada while they (are continuing to) process my Permanent Residence application. But without the burden of paying expensive rent, this opened the door to new possibilities.
These (out of my control) factors led me to my trip to Mexico. To meet new friends. To learn more Spanish. To continue my dance journey.
I share all this to encourage you to make the leap and travel to Mexico City, or whatever city you've been putting off.
I wished I didn't need to be sick, leave my job, be kicked out of a country, and be homeless to lead me to my trip.
But this is what makes life beautiful and unpredictable. The universe tends to work itself out. I wouldn't have planned my year to happen any other way. ☺️
---
P.S. Special thank you to Jowy-Jhan for being a premium member and supporting this article. 🙏
Tam Pham's Blog
I write about my adventures, learnings, and reflections on living my weird, unconventional life. Subscribe below!