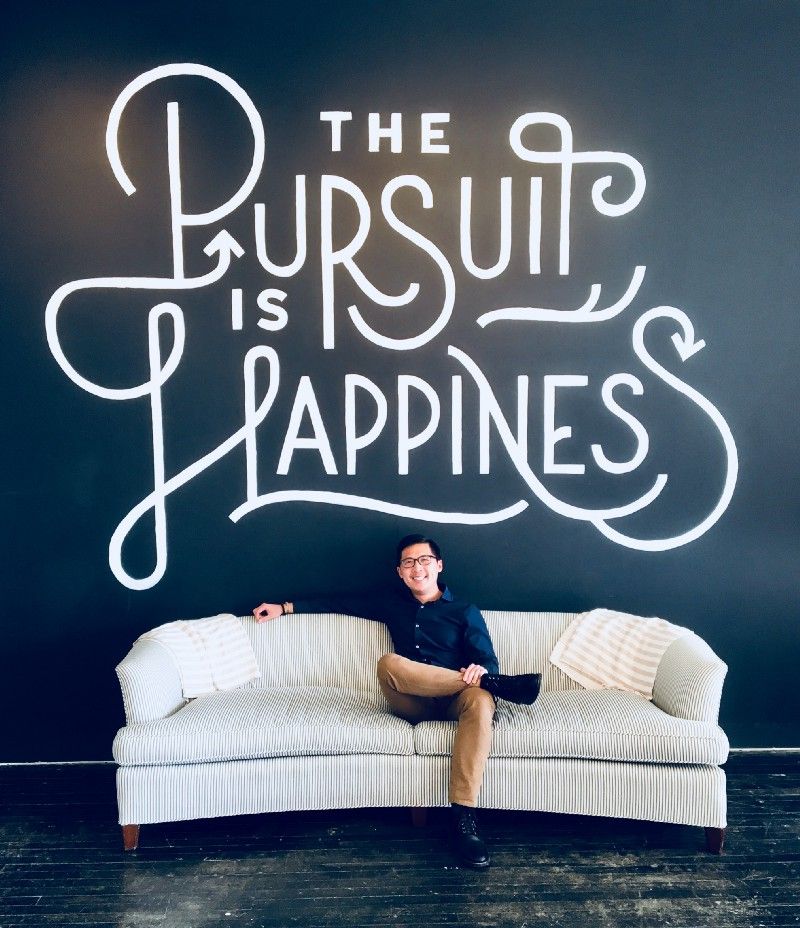 2018 for me has been full of excitement, adventure, and peace in that order. A good friend of mine described me as transitioning from a naive and wide-eyed boy to an old Asian dad. I agree with her.
Every year on my birthday, I look back and reflect on how much I've changed (past editions here: 2017, 2016, and 2015). Where to start this year?
Digital Nomad life
I packed a small suitcase and bought a one-way ticket to South Africa to test out the "digital nomad" lifestyle I've been reading all about.
My trip included 30 days in Cape Town, two separate trips to Mexico, 14 days to Atlanta, 1 week in Austin, 6 weeks in Thailand, 2 weeks in Vietnam, 2 weeks in Toronto, and two trips to SoCal to spend time with family. Oh boy!
South Africa
It felt like everything I could have wished for actually happened during my first solo international trip.
I met quite possibly the best travel friends that I will ever meet in my 20s.
We spent many mornings practicing hot yoga and eating the free breakfast (buttered croissant and orange juice) at our hostel. We went to local markets and frolicked around the botanical gardens. I got to know and dance with the lovely pole community.
We hiked South Africa's tallest mountains during the sunrise and sunset. We explored the richest and poorest parts of the city. I threw a party at my Airbnb for 25+ friends. Every moment felt so organic and smooth.
On the flip side, I went to the hospital on day 3 for drinking tap water. I almost got mugged walking alone at night until four local citizens stepped up to my rescue. I stepped in and yelled when two guys were trying to pickpocket my friend, and they came towards me trying to start a fight, and my group made sure that I was safe. All part of the traveling experience…
But the people I met were extraordinary humans. We trusted each other so fast and had each other's backs. I would travel non-stop if every trip was like this.
Mexico
My friend Chloe invited me to go to Mexico with her and being in a spontaneous travel mood, I said hell yes.
We spent the first half of the trip to Mexico City and did all the touristy things: visited the pyramids, Frida Khalo museum, and ate all the tacos. Thank the heavens for blessing Chloe with the magical powers to speak fluent Spanish.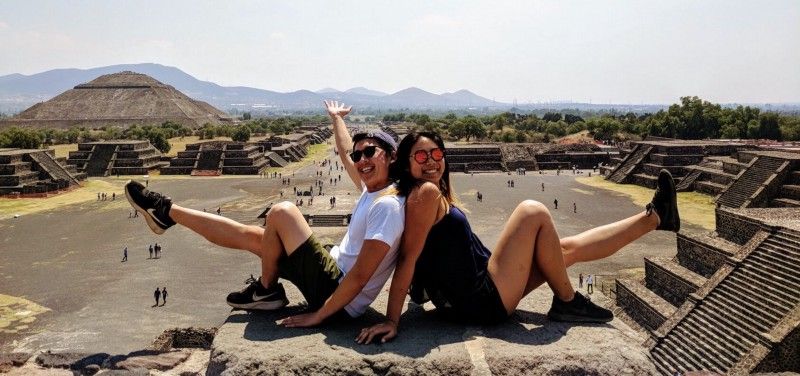 We ended the trip in Puerto Escondido, where we literally sat around all day at the beach. Muy relaxing.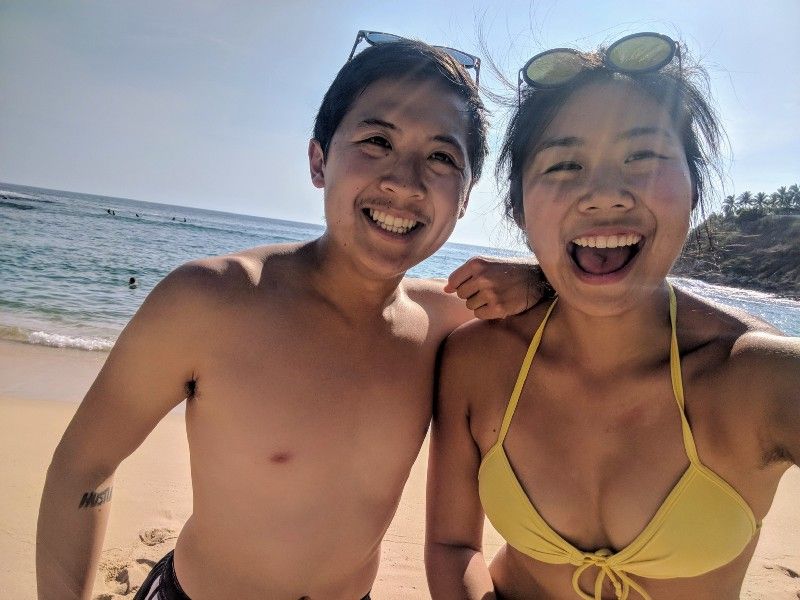 Atlanta
I visited the Human and Civil Rights Museum in Atlanta, Georgia where an interactive experience made me scared for my life.
They had me sit at a countertop, similar to the ones back in the 1960s, where Black people were not allowed to sit at. I put on my headset, placed my hands on the table, and closed my eyes. The narrator told me to remain as calm as possible.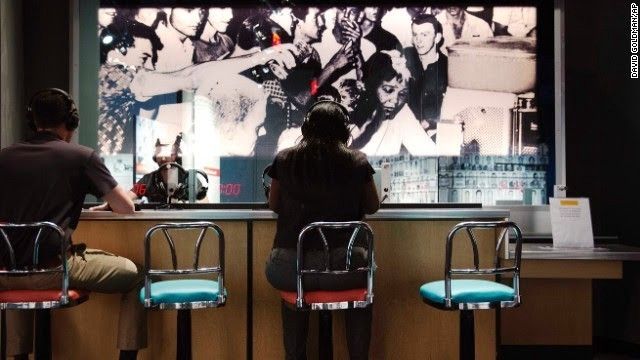 Over the next two minutes, I hear absolute chaos. Men shouting in my eyes on all sides. One threatened to murder me at that moment for sitting here. I hear groans from men getting beat up to death.
"YOU HEAR THAT!? That's going to be you next, son…"
My heartbeat grew faster. I put my hands over my head to protect myself from these imagined threats. After two minutes, the demo was over. Holy cow.
I tried for a long time to learn more about the history of the Civil Rights movement and racism in America, but I honestly had a hard time staying engaged. I tried to read the iconic book, Between the World and Me by Ta-Nehisi Coates but got bored and stopped. I tried watching the moving documentary, 13th, on Netflix but I quickly changed it back to Parks and Recreation instead.
It's not that I didn't care about history and the struggles they went through. It's more… I didn't have enough curiosity.
But while I was in Atlanta, I spent a good portion of my time visiting museums and talking to locals about U.S. history. My Airbnb was a 1-minute walk from where Martin Luther King Jr. grew up where I learned so much more about his life during a walking tour.
It's hard to imagine that most of these events happened less than 100 years ago and made me think more critically on my worldview.
Aside from learning about history, I felt blessed to know one person in Atlanta, who I met through Facebook when I randomly lurked on one of her Facebook pages. (Check out Wake Up Atlanta!)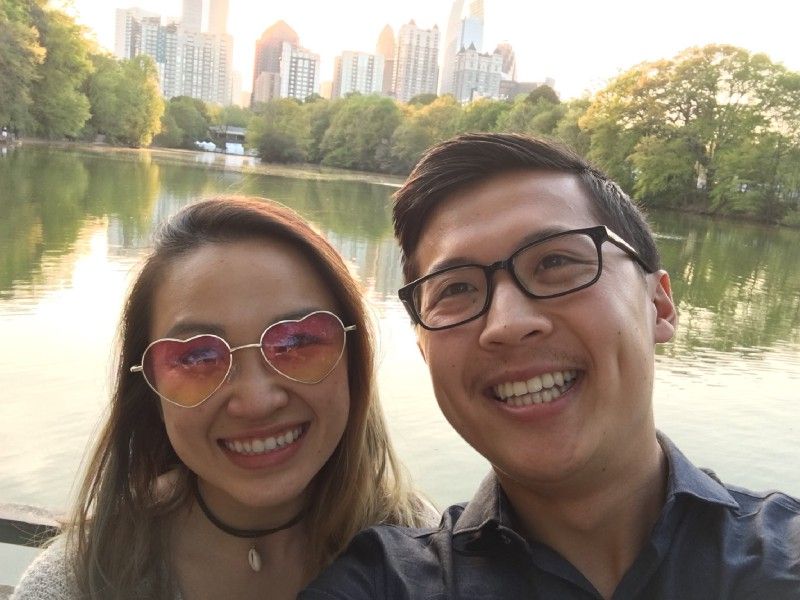 We met for fried chicken and luckily we didn't hate each other because we both enjoyed talking about death, media, and being Asian among many topics. She showed me where all the OGs go for authentic Asian food, went into a Korean spa, took an acro yoga class, and biked to see the city's best views.
Kavi, you are the real MVP for hosting travelers like me, thank you, my friend! I hope to be as hospitable and welcoming to strangers when they visit my city.
Austin
Off to Austin for a work retreat, ready to plan the future for Bot Academy, one of my clients. This is the first time in two years where I got to meet everyone in person after working remotely for so long. Confirmed that my co-workers are real humans!
I also got the opportunity to meet up with many entrepreneurs and authors that I've been following for years. First, Andrew Warner (founder of Bot Academy) invited me on an 8-mile run with Ryan Holiday, where I kept up for 6 miles despite not running for over a year, until they both left me behind because I couldn't keep up.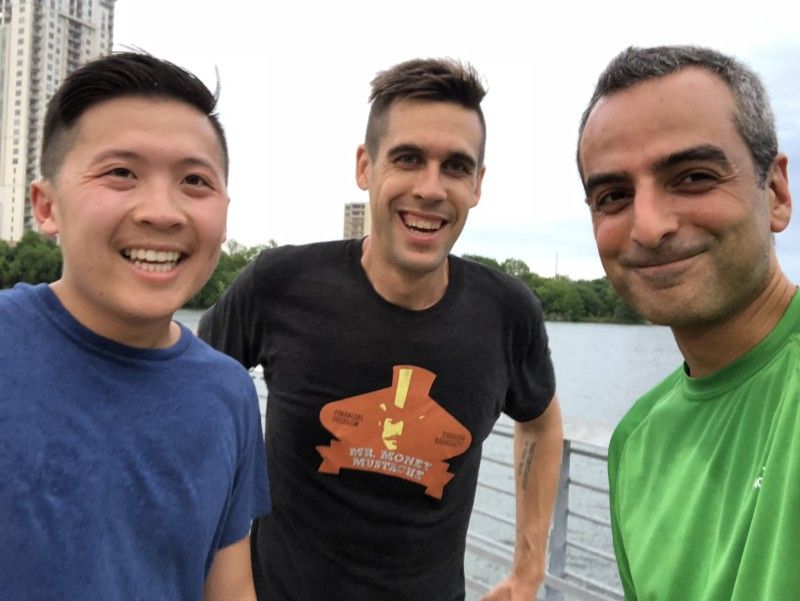 Had coffee and went on a walk with Charlie Hoehn, who wrote the amazing Recession Proof Graduate, that quite literally changed my whole career. Ate a power lunch with Tucker Max, where he taught me how people train elephants and why that relates to human behavior. Celebrated Shabbat for the first time with Noah Kagan, Neville Medhora, and several new friends where we held hands, jumped around in a circle and shared what we are grateful for.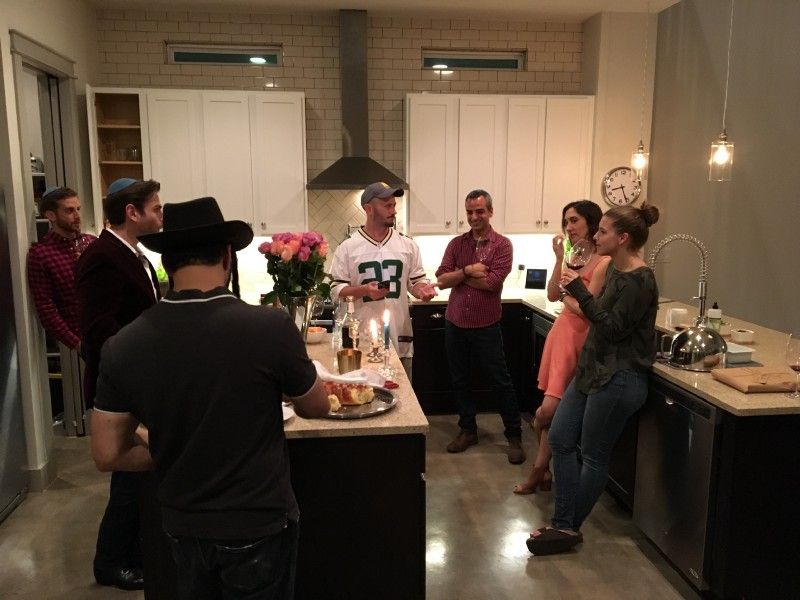 After being internet friends so long, it feels so natural to meet people in person and feel like you know them so well already. I feel so grateful.
Thailand
If I had to live anywhere in the world other than the United States, I would 100% choose Thailand. Yeah, you've probably heard it before, Thailand is so cheap and the food is so good. Both are true.
However, the culture is dope. People are so chill and relaxed here. Everyone is generally super nice and happy. I felt super safe everywhere I went. I asked many women who I met about how they felt walking alone at night, and several told me they felt 10x safer in Thailand than where they lived at home. Then I realized how dangerous San Francisco can be compared to other parts of the world.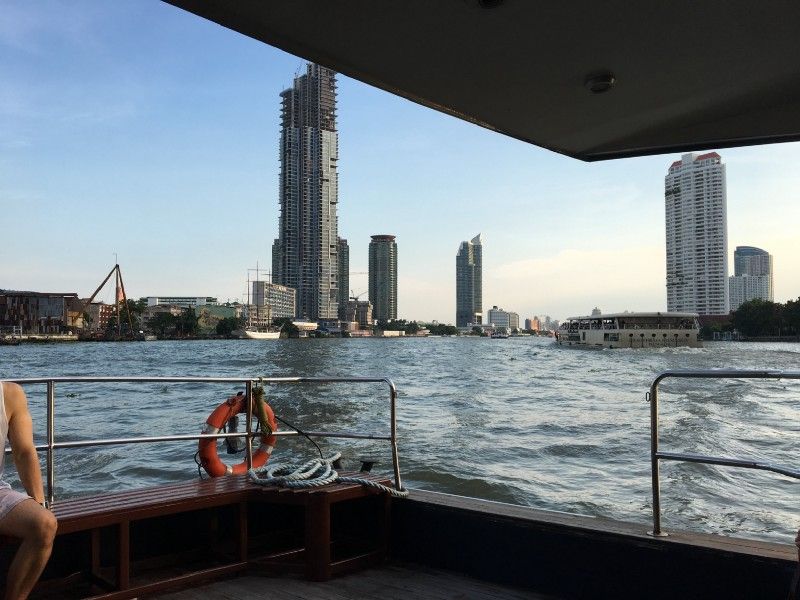 I started my trip in Bangkok where I met up with my internet friend, Eric Yang, who graciously offered me his place. I got a feel of Bangkok after 1 week but I didn't enjoy the city life. I flew to Chiang Mai and loved everything about it.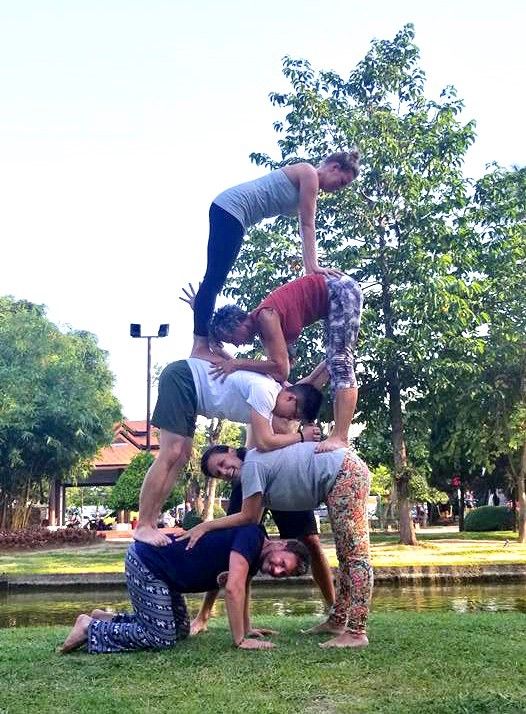 I only planned to stay for 4 days but I ended up staying for 4 weeks! Chiang Mai was so peaceful, beautiful, and spacious. I spent most of my time eating vegetarian food, practicing yoga, reading books at a cafe, and gettingThai massages every day. That might sound boring, but it felt like heaven to me because I felt so much at peace.
Along the way, I completed a one-week Thai Massage course, visited temples, shared umbrellas with monks, climbed up and down a waterfall, and participated in a Thai parade.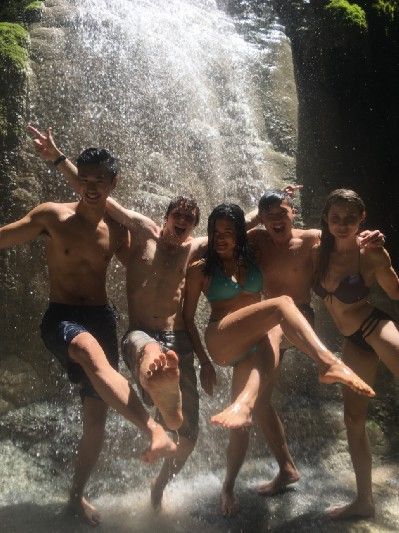 Vietnam
I flew to Hanoi first to see my old friend, David Kang, where we munched on some bun cha and drank beer.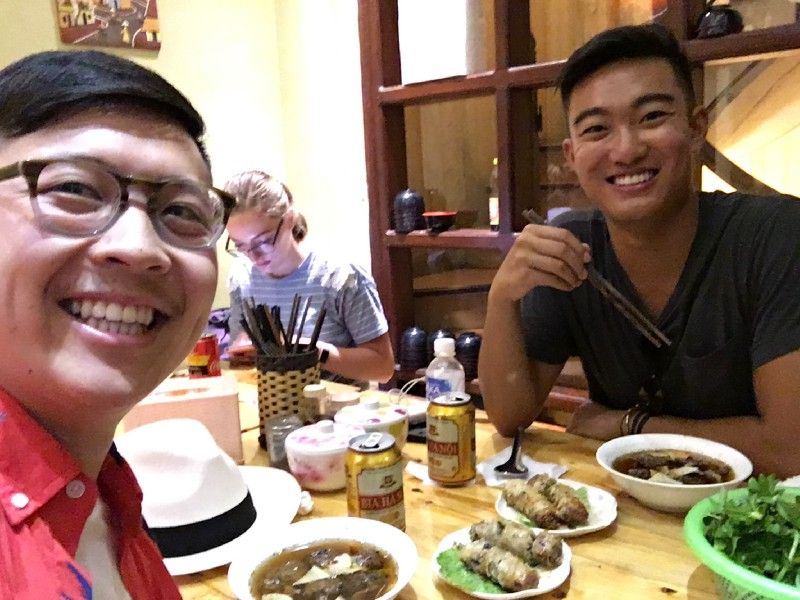 My Vietnamese was extremely rusty but I got around just fine and the locals found it humorous to help me practice speaking more. I left Hanoi early because I thought it was way too crazy. It felt like a video game where I could die at any minute while on my way to lunch.
I flew to Saigon and felt more at peace.
I got so excited to eat pho because I imagined it would be the most authentic and tasty bowl ever. I took my first bite and was like, that's it!?!?!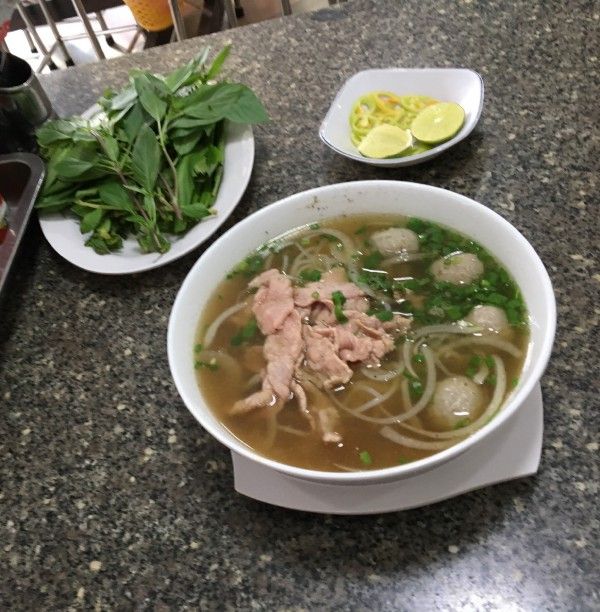 The food in Vietnam was mediocre at best. I texted my mom about how shocked I was and she laughed at me. She said, of course, the food is not better than San Jose. What do you mean, mom? Well for many reasons. One, they don't use the freshest and high-quality ingredients because it's too expensive or they don't have easy access to it like in California. Two, their portions are much smaller than in the Bay Area to cut down costs. Three, the quality is diluted because, you guessed it, to cut down costs. My dad and all my aunts and uncles agreed.
So for all the people who go back from Vietnam and say, "this is the best Vietnamese food in the whole world", it's most likely placebo. Go to San Jose and visit Pho 54. Then try your best to objectively compare the taste.
Aside from the food, many things made me proud to be Vietnamese. One thing I noticed was that I saw no one begging for money. Instead, you see 80-year-old grandmas carrying a bamboo stick on their backs with two bags of hanging fruit, walking around trying to make it.
My mom said it's a "pride" thing. To work for what you want and not ask for handouts.
I could easily lose count of all of the sacrifices my parents made for me and my siblings to have a "normal" life. The struggle that Vietnamese people would go through for their family humbles and amazes me.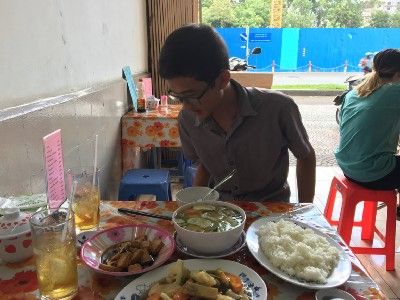 Toronto
I flew to Toronto for Sol Orwell's Charity Cookie-Off, his famous event to raise money for great causes and meet interesting people.
My internet friends and I came together to enjoy poutines, ping pong, and munch on all kinds of cookies.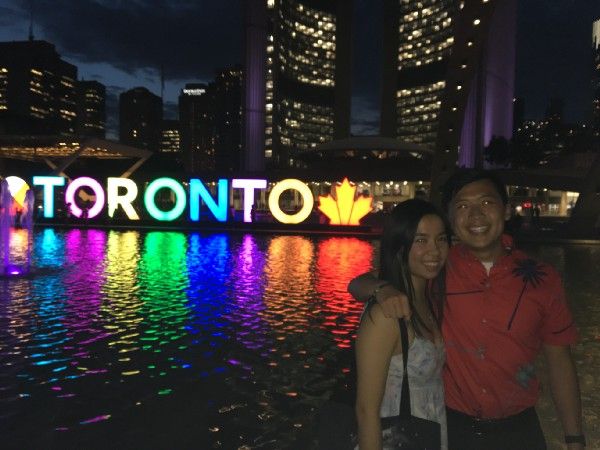 I could 100% live in Toronto as well. I think I fell in love with a dozen women walking by on the first day I arrived. Compared to San Francisco's horrid M/F ratio, being in Toronto felt like a whole different universe. Also, how can you beat free health care?
My friend Wilson generously let me stay on his couch for my 2nd week where we walked to WeWork together and stayed up late to watch John Bartholomew's chess videos. (Aren't we cute??)
I visited family in SoCal again for two weeks after Toronto and FINALLY came back to the Bay Area, home sweet home.
Home sweet home
I moved into Mission Bay, San Francisco with my good friends Kevin and Josie. We share the same values for cleanliness, design, and fun. While everyone I've met has had the worst housemate luck, I feel like I've hit the lottery.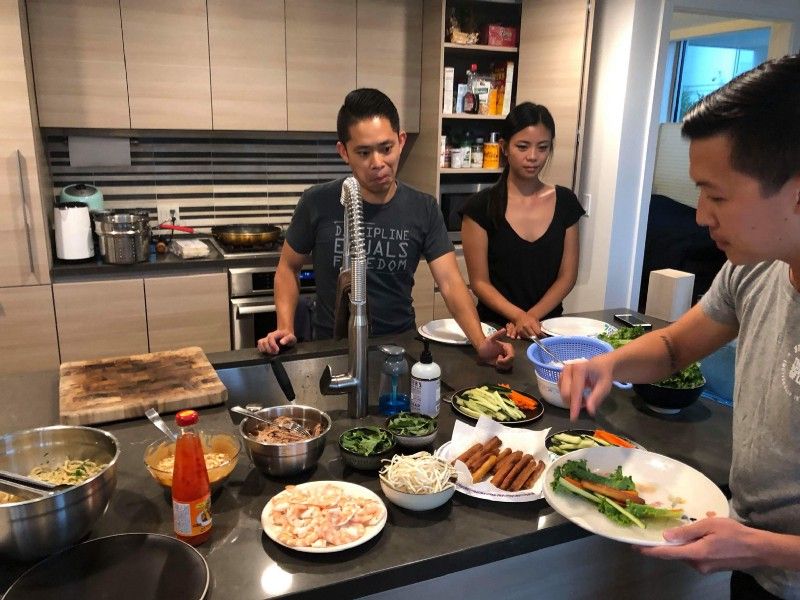 I also love Mission Bay (which is close to AT&T Park) because it feels like a combination of the suburbs and LA. Our area is clean, safe, and spacious. There are families, kids and dogs running around everywhere. We have security downstairs that's there 24/7. This is probably the best setup I have ever had.
I don't want to travel for a good while. I love love love being at home. I work from home with my handy standing desk and Vietnamese coffee. I cook almost all my meals. I would rather invite friends over to make a new dish together than go out to a busy restaurant.
I plan to adopt a dog once I get my new business up and running, which leads me to the next part of my life.
Digital Marketer turned Chess Coach!?
Despite the travel, I've somehow managed to do some of my best digital marketing work with my clients. I felt so proud to help Bot Academy grow to a healthy six-figure business. I worked with a private client to help launch a New York Times bestselling book. Plus so many more good stories to tell.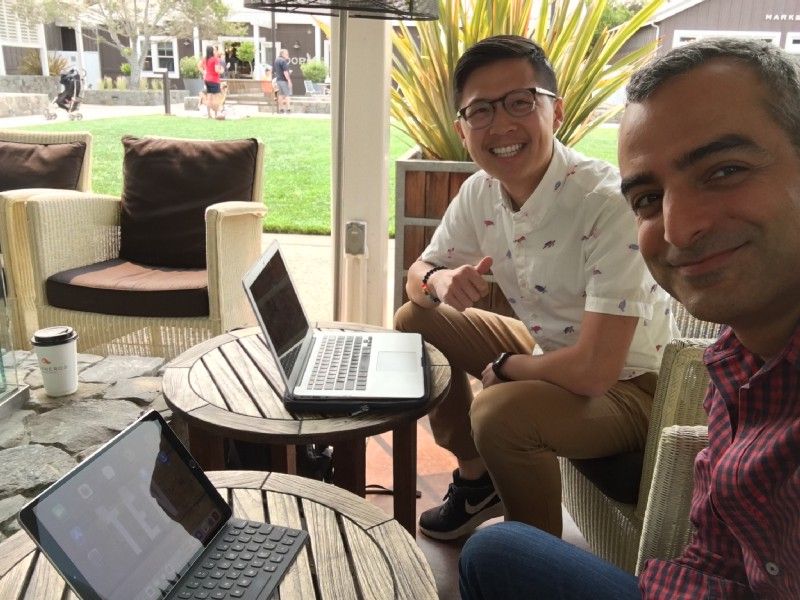 I felt like at this point in my career, my whole life journey was validated. That dropping out of college, sleeping on couches, "hustling" to learn as much as I can, and finally get to work and be friends with the people I admired… was all worth it.
But for some strange reason, I asked myself, "What now?"
I've pondered this question while I went backpacking in Asia. I love business and entrepreneurship, but I knew that I had other interests that I have yet to explore. What if I stayed on the same path forever and never tried something different?
One of those interests is playing chess. I found myself at a cafe in Thailand playing/studying chess for 3+ hours every day. My friends would make fun of me, "Why are you across the world in a cafe behind your computer playing chess?"
I don't know. It felt right.
In the past, I've ignored my "gut feelings." But I'm not sure if it was because I was in Thailand, or if yoga teachers have taken over my mind, but I wanted to do what feels right.
When I got back from my travels, I made the unexpected choice to pause my digital marketing work with all of my clients, who were nothing short of loving and understanding in my decision.
I wanted to explore chess. I had no idea what that meant. I was ready to find out and explore.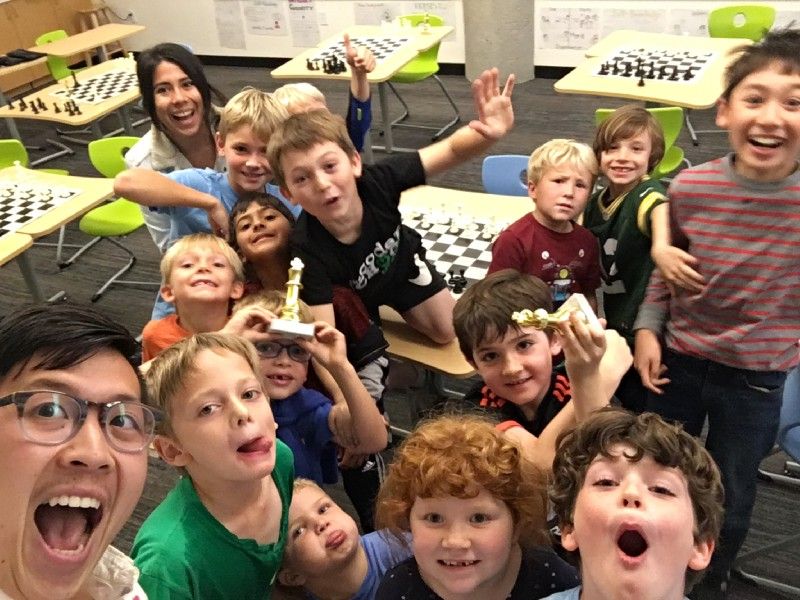 In August, I cold-emailed chess companies in the Bay Area to see how I can help them. Somehow, they liked me enough to hire me to teach chess at four elementary schools a week. This gave me a taste of what I felt like I wanted to do, and the test was successful. I've worked with kids before but teaching them a game that I love? Priceless.
So now I wonder: Is it possible to make a living off of teaching chess?
After doing the math, I would need at least 20 private students for this to be sustainable. This sounds… doable. I honestly feel anxious and scared. I'm going into this knowing that (1) demand for chess is not as high as digital marketing (2) the market for chess is much less lucrative (3) this is MY business. I'm no longer helping other people grow their business. This is 100% on me.
But after working with kids in schools and coaching a few private students already, I feel like this is what life calls for me at this exact moment. It could change in the future. I could very well see myself going back into digital marketing. But for right now, I feel so alive while teaching chess. If I can keep this going, oh man, life will feel even more complete.
Feeling like an old man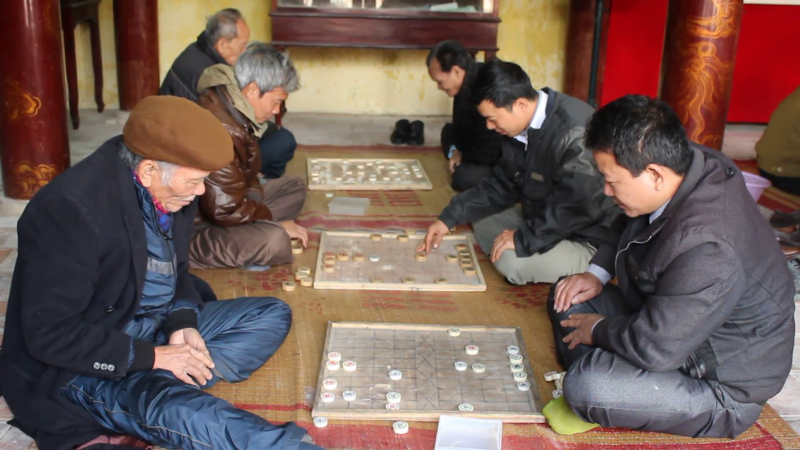 I genuinely feel like I'm a 52-year-old Asian dad sometimes.
I stay (and work) at home most of the time. I don't go to bars, clubs, or any parties for that matter.
I found my core group of friends and mentors, and have been less open to random introductions like I was used to.
I spend more time with loved ones. I spend my time learning and teaching everything I know.
I do yoga every other day. I play badminton on Friday mornings.
I'm around kids all day. I read too much.
I study chess for so long that I forget to eat. Trying to be a National Master in chess is HARD WORK yo.
This might sound "boring" from the outside, but this has been one of the most enjoyable times of my life. So much more meaningful than living the "digital nomad" life that I've had.
I feel really great to not have the fear of missing out on the latest event, distracting job opportunities, or [insert shiny object here].
A lesson that I knew intuitively for a long time, but didn't actually "hit me" until this year, was: Discover what is important and meaningful to you and find a way to do those things.
Personal life
In my last reflection, I talked about how I really wanted to improve my romantic relationships. So I went after it.
I hired a stylist (who I highly recommend) to help me up my fashion game. Peter also served as my informal dating coach, helping me navigate online dating apps for the first time, and giving me advice about the dating process.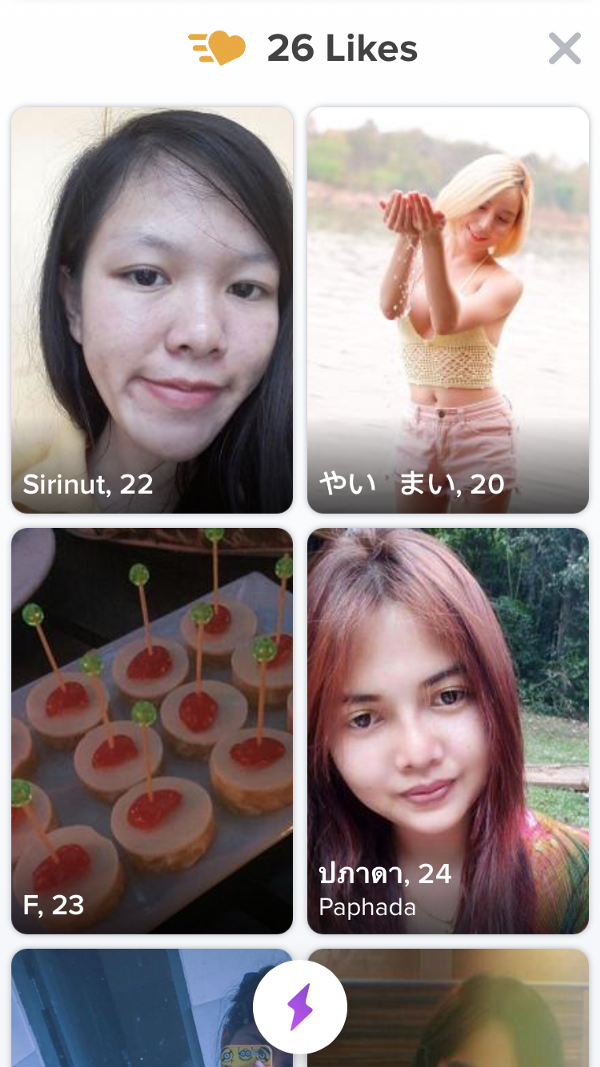 I remember reflecting with my friend Allison about my fears behind dating. I wondered, what if I went all-in on dating, and did not succeed? What if I hired a stylist, read books on dating, and went on dates to no luck?
She asked me, How would you feel if you did everything you possibly could to improve your dating life but did not "succeed" to the standards you set for yourself?
Well, I would still feel pretty proud. At least I tried my best. I would gain more experience with dating. I'd probably be better at having conversations and generally more confident.
There was almost no downside and infinite upside.
I went on more dates this year than I have in my entire life. It was fun, exhausting, and a bit too much honestly.
I used Tinder and Bumble while I was traveling to Atlanta, Toronto, Thailand, and a few other places. 95% of the dates were pretty boring. But for the two dates that went extremely well, all the effort was well worth it.
Final thoughts
Thank you for spending a moment in your day to read about moments in my year. I am curious to know which parts if any, that resonated with you. I would also love to hear from you in general, especially if we haven't talked in a while. Thank you again for reading.
What am I doing today, on my actual birth date? Great question. I'm going to meet one of my mentors for lunch, teach chess to an elementary school in Burlingame, do some Yoga with Adriene, and study chess tonight. Life is so great.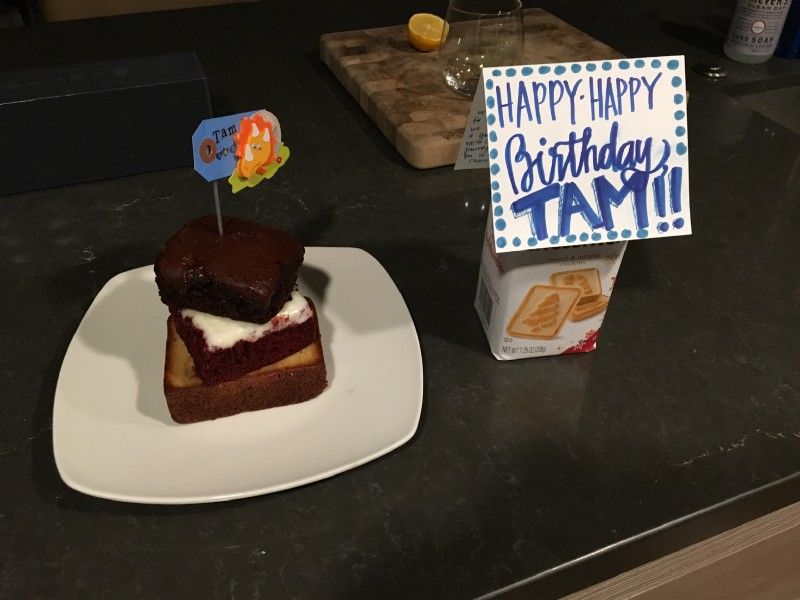 Tam Pham's Blog
I write about my adventures, learnings, and reflections on living my weird, unconventional life. Subscribe below!